We usually focus on relatively inexpensive meals here, but now and then, you have to go all the way. Today is that day as we whip up an easy broiled lobster tails recipe that will impress your family and friends.
And the best part is that this recipe for broiled lobster tail is super easy to prepare.
Here is the second-best thing about cooking lobster: Lobster meat is super healthy and loaded with protein. We could all use a little more protein in our diet, right?
I tend to eat a lot of veggies, so adding protein via lobster meat and other seafood helps me to eat a more balanced diet.
Cooking lobster tail is easier than you think, and it is definitely one of the easiest seafood recipes.
So, I was thinking about what I could do for the 2nd anniversary of dating my honey, and I thought I should make a special meal. After all, he puts up with a lot from me.
The kitchen has lights all over it for food blogging. And I cook with tons of garlic. He could have dated someone normal, but no, he chose me. Or did I choose him?
Who knows. I know that he's the sweetest man in the world, so he deserves a fantastic lobster tail dinner.
Where Can I Buy Tails?
I go to the fish market here in Raleigh when I can. Fresh lobster is better than anything you can eat at Red Lobster.
If you don't have fresh lobster near you, just get the frozen lobster tails at your grocery store. Better yet, get them fresh at the seafood section.
It's all good. Trust me, lobster with garlic would taste good either way, including a lobster tail frozen recipe. I'm lucky to be able to buy Maine lobster tails near me.
Always pick out a lobster that feels heavy for its size. Huge lobster tails, Maine lobster tails, or jumbo lobster tails are perfect. Look for 5-ounce tails to 12-ounce tails.
You can Google "Maine lobster tails for sale" or "lobster tails for sale near me" and some results will pop up.
lobster that isn't discolored. And if I can't find lobster tails for my special occasion, this old girl will throw a fit. So, I'll make reservations somewhere then while I hang my head in shame. Lawd have mercy.
Mail Order Lobster Tails
Oh, and believe it or not, you can also buy lobster tails on Amazon.
Yes, really, mail order lobster tails are a thing. For buying mail order lobster tails, Google is your friend. Just be sure to check reviews carefully.
Frozen

Tails
If you can only access frozen lobster tails, by all means, try a frozen lobster tail recipe. It will be almost as yummy!
To find frozen lobster tails, check your favorite grocery store that has a seafood market.
You can also buy frozen lobster tails at Costco. Costco frozen lobster tails price will vary, but it's usually about $399.99 for 10 pounds of delicious lobster.
Is Healthy?
Yasss!
A is a healthy alternative to chicken and broiled or boiled is high in vitamins.
is also low in fat and high in protein, so it's nutritious.
is low in .
Thank the Lawd! My Mom used to make them on super important occasions. We didn't have a lot of money, but about one time per year, Mom would make the most delicious lobster tails I've ever eaten before.
Here are the lobster nutrition facts:
Even better, lobster tail protein is off the charts. In fact, 78% of the calories in lobster come from protein.
I don't think my Mom thought she cooked very well, and honestly, I didn't appreciate her cooking skills until I was much older. She knew how to make special occasions and holidays even more special.
Lobster Tail Can Be One of the Best Weight Watchers Recipes

Is lobster good for weight loss? If you're doing Weight Watchers, you can enjoy lobster as often as you want (and as often as you can afford it!).
In the current Weight Watchers plan (Personal Points), not everyone has fish and seafood as zero points foods. However, even if you count the points in seafood, lobster and other shellfish are pretty low in Personal Points.
For this recipe, it has a ton of points if you make it as written. Half a cup of butter brings in a whopping 47 points. To reduce the points in this broiled lobster tails recipe, you can use less butter or a light butter such as Land O Lakes butter made with canola oil.
Alternatively, you can skip the butter. But if you can't bear to enjoy lobster without butter (that would be me), this could be your treat meal.
And don't forget that you always have your weekly points.
Can I Freeze Cooked Tails?
Yes, you can, but good luck having leftovers after a mouthwatering lobster meal. This recipe is very simple, yet your family members and guests will think you worked tirelessly in the kitchen.
Let's just say you're one of those weird people with leftover lobster meat. There is a lot you can do with frozen tails.
bisque

rolls with
Or chowder
salad
Pasta and (linguine is good)

& cheese

with garlic
Alternatively, you can send all of your leftover lobster meat to me, and I'll take care of it for you. You're welcome! Do you see how I always try to help others? That's how I roll, fam.
What Goes with Tails?
Now, because a broiled lobster tails recipe lobster is such an extravagant dish to make, you would think it would require unique side dishes. However, potato salad is fantastic with lobster, and that's not exactly fancy pants territory.
Here are some more great lobster side dishes:
Mac and cheese

Mexican street corn

French bread or bread (or other crusty bread)

Green salad
Do you see how this lobster dish doesn't have to be accompanied by a fancy side dish?
I will make a green salad, mussels, and baked potatoes tonight when I'm cooking lobster. I will never lose that 5 pounds I want to ditch, will I? Sigh. OK, I'm lying. 7 or 8 pounds would be better. I'm totally admitting too much here.
How Is Cooked?
Lobster is a versatile dish, as you can see from the leftover choices above. You can cook lobster in quite a few different ways.
Here are some great ideas for lobster tail recipes.
Boiled (It's not as flavorful cooked this way, though.)

Baked

recipe

Poached

Steamed

picatta
poached
Cajun

recipe

poached

recipe

Sous vide

recipe

Fried

recipes
Air fryer

recipe

Fried

Pressure cooker

recipe
We love to broil lobster tail, but we also love making grilled lobster tail.
How long do you cook broiled lobster tails? Lobster tail is done in about 10 minutes of cooking time.
Not bad, eh? We're going to broil lobster in this recipe. And the bites of lobster meat that's been dipped in the buttery sauce are out of this world.
Recipe

: How to Cook 4 oz Tails
For this broiled lobster tails recipe, the sauce consists of:
) (or

Lemon juice

Crushed (or minced )

Smoked

Fresh thyme

Sea salt

Black pepper
Have you seen those ridiculous-looking bibs that people wear in restaurants when eating lobster meat with a shell? Well, I'm sure that's also because of the sauce, not just the shell.
It's not just the lobster meat or cutting open the lobster shell. Lobster meat with a shell is very messy to eat, but put some garlic butter on there, and it can be even messier.
But it's so worth it.
And the sauce isn't just for dipping the lobster meat. We will brush the lobster tails with the butter sauce before removing the shell or cooking them in the broiler.
All of the ingredients above are for the sauce, and you probably have those in your kitchen now.
If your lobster meat pieces aren't too small, you can serve two people with one lobster tail each. Otherwise, some people serve two tails per person.
So, I wanted to get 4 10-ounce lobster tails that would normally serve 4.
I planned to use the leftover (yes, I'm one of those weird people I mentioned before) lobster tail meat to make lobster rolls tomorrow for dinner or lunch. However, I just got back from the store and they only had 5-ounce lobster tails, so that's what I got.
Just a Small Favor, Please
I'm just gonna ask a favor of y'all here, please. Pretty please.
Don't tell Mr. Man how easy this broiled lobster recipe is to make, thankyouverymuch. I'm going to walk out of that kitchen looking exhausted.
Hey, it's not the first acting role I've done, but that's another story we'll never talk about:) I plan to be very dramatic about it, including wiping my brow.
Thanks, fam! You're the best.
Guys, I mentioned that I was going to make some mussels with this, but I forgot, and they're still in my fridge:(
However, we had so much food. It would have been too much anyway. I'll share a mussels recipe with you soon!
Let's gooo!
Equipment Needed for
Cutting board

Pastry brush
Serves 4
Prep time: 15 minutes
Cook time: 10 minutes (about one minute per ounce)
Ingredients for the

Best

Recipe
4 tails
1/2 cup
2 cloves of , crushed

2 teaspoons of lemon juice

1/2 teaspoon of

smoked

or

sweet

1 teaspoon of fresh thyme

Salt and pepper to taste

Lemon wedges for serving
Alternative Tails Ingredients
If you want to change things up a bit, you can always make substitutions. Here are some ideas for cooking a broiled lobster tail recipe.
) (we love
(here is our favorite )
Instructions for
1. Preheat the broiler. Rinse the lobster tails and pat dry with a paper towel.
2. Mix together the garlic butter mixture in a small bowl: melted butter, garlic, lemon juice, paprika, sea salt, and black pepper.
3. Place lobster tail on a baking sheet.
4. Take a sharp knife or kitchen shears, and cut the top of the shell of the lobster tails. Be sure to do this lengthwise. I usually use shears. Pull the shells apart slightly and lift the meat up to prop it on the shell.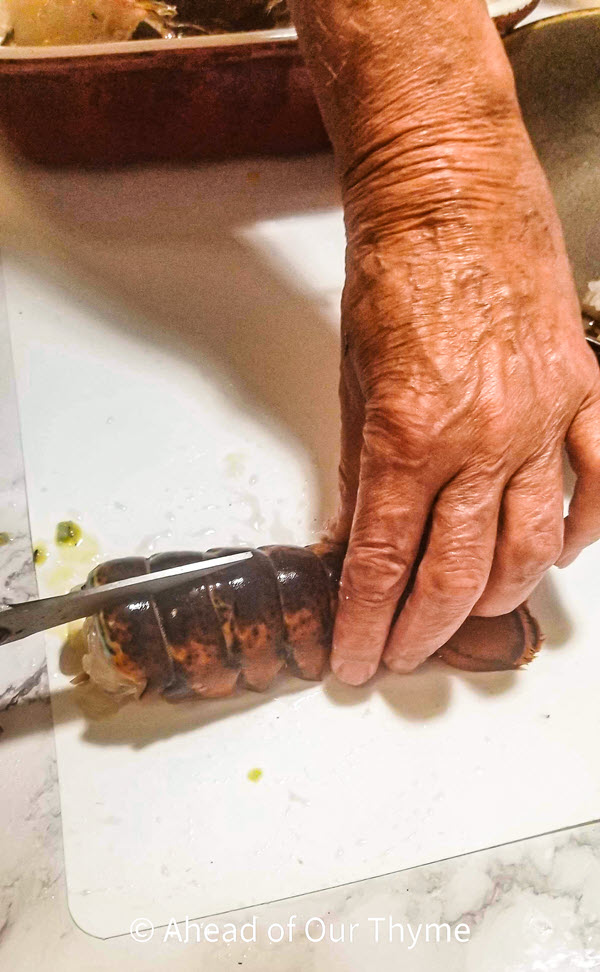 5. Brush the propped-up meat with the melted butter sauce.
6. Cook lobster tail fin in a broiling pan until lightly browned and the broiled lobster meat reaches an internal temperature of 140 degrees.
7. Garnish the broiled lobster tails with a lemon wedge and parsley.
8. Remove lobster tails.
9. Serve your broiled lobster tails with the remainder of the butter sauce.
Enjoy!
Here's a video on how to make broiled lobster tails.
Easy Lobster Tails Recipe
This delicacy doesn't take long to make, and it's easy!
Instructions
Preheat the broiler. Rinse the lobster tails, Pat dry.

Mix together the melted butter, garlic, lemon juice, paprika, and salt and pepper in a small bowl.

Place lobster tails on a baking sheet, take a sharp knife or kitchen shears, and cut the top of the shell of the lobster tails. Be sure to do this lengthwise. I usually use shears. Pull the shells apart slightly and lift the meat up to prop it on the shell.

Brush the propped-up meat with the melted butter sauce.

Broil the lobster tails in a cooking pan until lightly browned and the lobster meat reaches an internal temperature of 135-140 degrees. 

Garnish with lemon wedges and parsley. Serve with the remainder of the butter sauce for dipping. 
Video
Nutrition
Calories:
215
kcal
Carbohydrates:
3
g
Protein:
1
g
Fat:
23
g
Saturated Fat:
15
g
Polyunsaturated Fat:
1
g
Monounsaturated Fat:
6
g
Trans Fat:
1
g
Cholesterol:
62
mg
Sodium:
188
mg
Potassium:
59
mg
Fiber:
1
g
Sugar:
1
g
Vitamin A:
758
IU
Vitamin C:
17
mg
Calcium:
20
mg
Iron:
1
mg
This recipe may contain affiliate links, which means that I may receive a commission if you make a purchase using these links  As an Amazon Associate, I earn a small amount of money from qualifying purchases.
Be sure to review this recipe, and say hello to us on Facebook and Instagram.Thanks for stopping by!
Happy anniversary, my honey.