What can you cook in an air fryer? As air fryers grow in popularity, so does the number of air fryer recipes available for them.
Rather than asking what can you cook in an air fryer, it might be easier to ask what can't you cook in an air fryer?
From baked goods to meats and side dishes, you can cook virtually any recipe in an air fryer. Our list of air fryer recipes has something for everyone.
What Can You Cook in an Air Fryer?
There are a few foods that don't seem to work well in an air fryer. These include:
Raw vegetables
Most greens
Fresh cheese
Battered foods
Foods with loose seasoning
Large portions (more than two to four people)
What Is an Air Fryer and How Does It Work?
Before you ask, "What can you cook in an air fryer?" you may be wondering what an air fryer is and how it works.
The first air fryer was debuted in 2010 by Philips, at the IFA consumer electronics show in Berlin.
It's no secret that air fryers have grown immensely in popularity since then. A Facebook group called Air Fryer Tips and Recipes has over 380,000 members and has had thousands of posts in the last month.
So, what is an air fryer? It's a small kitchen appliance that quickly cooks food by circulating air around it.
An air fryer has a removable basket, similar to a deep fryer. But instead of putting your food into a vat of hot oil, the food is baked by the heat flowing around it. Because an air fryer doesn't use oil, it offers the option of making your favorite foods in a healthier version.
That's the same method used in the convection option of a full-size oven or toaster oven. It's just a smaller version. Most air fryers have temperature and timer features that allow you to cook precisely.
Additionally, a lot of recipes require you to periodically shake the basket so that there is even coverage while cooking. Some high-end models come with a feature reminding you when to do this.
Finally, you don't have to spend a lot of money on an air fryer. There are so many models on the market today that can work into most budgets.
Foods to Make in Your Air Fryer
What can you cook in an air fryer? The recipe possibilities are endless.
We're going to share our favorite recipe ideas with you. But, if there's something you're dying to make in your air fryer, look up a recipe! Chances are, there's a recipe out ther for you.
1. Air Fryer Chocolate Chip Cookies
That is probably one of the most surprising recipe options on our list. In fact, this recipe is so unexpected, that we just had to list it first.
This air fryer cookie recipe includes all of the ingredients you would typically use to make cookies, but they only take five minutes to make. If you can't wait 20 minutes to satisfy your sweet tooth craving, this is the perfect solution.
The key to baking a cookie recipe in an air fryer is to make sure you line the basket with foil. Otherwise, you'll end up with a huge mess.
2. Air Fryer Sweet Potato Fries
Most people already know that you can cook French fries in the air fryer. Popping some frozen French fries in the basket makes for an easy and quick side to your dinner for the night.
Many people don't think to make sweet potato fries in the air fryer, though. It's simple, quick, and healthy. What more could you ask for?
With this recipe, it's imperative to make sure you cut the fries at the same size so that they cook evenly. You also can't overcrowd the basket. And, you have to turn them halfway through.
You can use this same method to make air fryer French fries or air fryer potato wedges. You can also make air fryer frozen French fries.
3. Air Fryer Thanksgiving Turkey
What if you asked the question, "What can you cook in an air fryer?" and got Thanksgiving turkey as an answer? You'd probably laugh. But it really works!
This recipe is an absolute game-changer. If you stay at home with your immediate family on Thanksgiving, you know how much of a hassle cooking an entire turkey just for a few people can be.
Sure, the leftovers are great, but do you really need that much turkey? Cooking a Thanksgiving turkey recipe has never been simpler than with this air fryer recipe.
With a turkey breast and some essential seasonings, you can get a golden, crispy turkey dinner in under an hour. The best part? You don't have to brine it at all.
4. Air Fryer Cinnamon Rolls
You can even cook a quick but yummy breakfast recipe in your air fryer.
These air fryer cinnamon rolls are simple to prepare, quick to cook, and well-loved. And best of all, you can make them with Pillsbury Cinnamon Rolls.
The best part about this recipe is that there are only two ingredients: a can of cinnamon rolls and a non-stick cooking spray. If you're looking for an inexpensive air fryer recipe, this would be it.
5. Copycat Taco Bell Crunchwrap Supreme
If you're a Taco Bell lover, but can't justify going every week to get the Crunchwrap that you're always craving, you can make one at home. Fortunately, we have a copycat recipe for you.
Of course, you can make a copycat Crunchwrap recipe without an air fryer, but it just won't taste as good. The air fryer gives it the crispiness that you desire.
The downside to this recipe is that it requires a good bit of ingredients, but that's to be expected. The good news is that it only takes about four minutes to cook.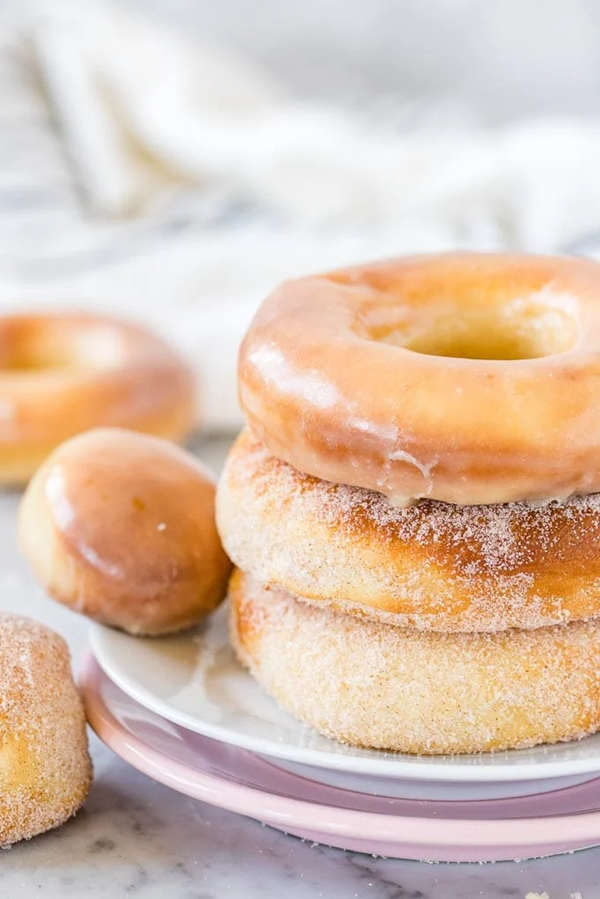 6. Air Fryer Donuts
If you ask the question, "What can you cook in an air fryer?" donuts probably won't be the first answer out of someone's mouth.
It's a surprising air fryer recipe, but they're delicious, have crispiness on the outside, and won't be filled with oil. It's another recipe that includes a lot of ingredients, but most of them will be items that you most likely already have in your pantry.
It's one of the longer recipes, as it takes about 25 minutes to prepare and 15 minutes to cook. But it's so worth it!
7. The Crispiest Chicken Wings
Easy air fryer chicken wings are a standard air fryer recipe, and there are so many different chicken wings recipe ideas out there.
I've found that the key to cooking chicken wings is to prepare the chicken with your favorite seasonings before putting them in the air fryer such as chili powder, garlic, or salt.
Then, toss the chicken wings with your favorite sauce when you take them out. These chicken wings amazing and are probably the best chicken wings I've ever had.
You can experiment with different seasonings and sauces for your chicken, but the result is going to be the same. Crispy, delicious, and worth the cooking time.
This chicken wings cooking method also works for any other chicken recipe, including air fryer chicken thighs, air fryer turkey breast, and air fryer chicken breast.
8. Air Fryer Baked Potato
A baked potato should really be called an air fryer baked potato when you air fry them, but the result is the same. Actually, you might even like them better in the air fryer.
When you make a baked potato in the air fryer, you're going to get a crispy skin with a tender, fluffy inside. Who doesn't want their baked potatoes cooked like that?
These will take a long time, 40 minutes to be exact. However, they'll take just as long in the oven, and you get the added benefit of the crispiness in the air fryer.
9. Chicken Parmesan
With an air fryer, you can get the delicious taste of chicken parmesan without the greasiness of oil. It's a much healthier alternative.
It's a simple cooking and preparation process, and pairs perfectly with some pasta.
10. Air Fryer Bacon
As you may already know, bacon can be cooked in the air fryer.
Everyone has a favorite method of cooking bacon, whether it's in the oven, on the stovetop, or in the microwave. If you haven't tried cooking air fryer bacon, I highly encourage you to do so if you like your bacon extra crispy.
Because you can adjust your cooking time with the air fryer, you can experiment with the times to get the perfect amount of crispiness that you're looking for.
11. Crispy Fried Chicken
The air fryer was born to make fried chicken. Who doesn't love crispy and delicious fried chicken?
When you air fry the South's favorite comfort food, you can enjoy it guilt-free.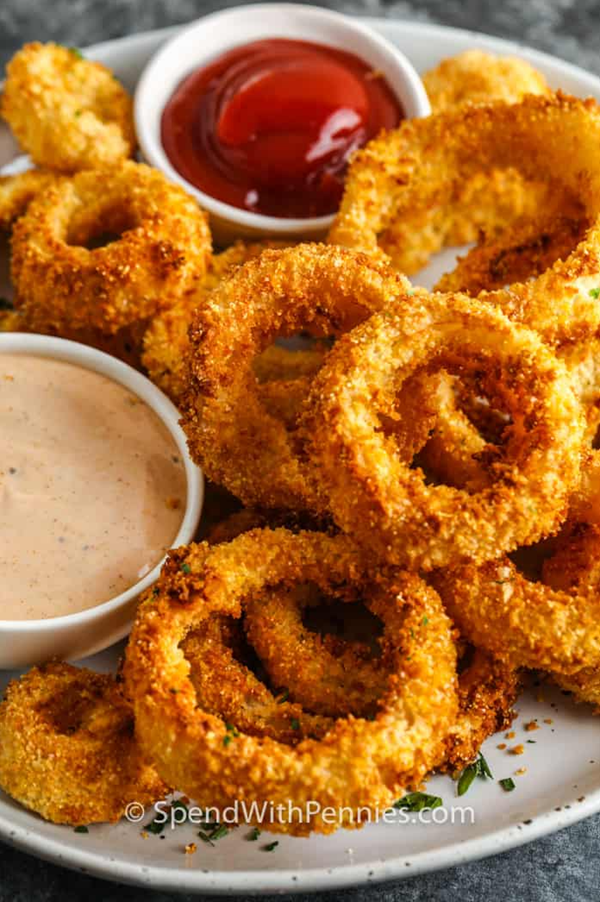 12. Onion Rings
Move over Sonic and Whataburger, we've got air fryer onion rings!
Serve these delicious crispy air fried onion rings with ketchup or a creamy chipotle ranch sauce.
13. Air Fryer Coconut Shrimp
Fried shrimp for the win, right? We love fried coconut shrimp, and when you air fry it, it's just as delicious and crispy as fried shrimp that's made in a skillet or deep fryer.
Serve this air fryer coconut shrimp with a tangy Thai sweet chili sauce.
14. Air Fryer Salmon
This is Conover's signature crispy air fryer salmon recipe, and it has a secret twist: brown sugar.
Other ingredients in this yummy air fryer fish recipe are garlic powder, Dijon mustard, onion powder, black pepper, sea sale, and soy sauce.
15. Air Fryer Potato Chips
If you never use your air fryer for anything but making homemade potato chips, the cost of the air fryer is totally worth it!
We love how crispy these yummy homemade crispy potato chips are.
16. Tater Tots
When you're craving a crispy tater tot dinner, just reach for your air fryer. Air fryer tater tots are easy to make and they're super addictive!
You can serve these yummy tater tots as an air fryer tater tot side dish with an air fryer burger, air fryer brats, air fryer chicken breast, or air fryer corn dogs. However, we also like them as a light dinner by themselves with melted cheese on top.
17. Air Fryer Asparagus
If you love your asparagus crispy, air fryer asparagus may be just what you've been dreaming of. We love ours sprinkled with parmesan cheese.
Other veggies you can make using this same method are air fryer green beans, air fryer broccoli, air fryer Brussels sprouts, air fryer carrots, and other air fryer vegetables.
This asparagus recipe is an excellent side dish for a chicken breast dinner or air fryer lobster tails and it's one of the best air fryer recipes.
18. Corn Dogs
If you've been waiting for the State Fair so that you can enjoy crispy and yummy corn dogs and other fried food, your wait is over because we have an easy air fryer recipe for corn dogs.
With your air fryer, you can have air fryer corn dogs in a fraction of the time it takes to fry them or bake them in the oven. Corn dogs are a great lunch or light dinner recipe. Be sure to serve them with air fryer French fries.
19. Air Fryer Meatballs
Easy air fryer meatballs are a super simple meal to whip up and meatballs are one of our favorite slow cooker recipes. However, whether you make homemade meatballs or buy frozen ones, you can air fry meatballs, too.
We love bringing home a couple of bags of Swedish meatballs when we shop at Ikea.
Serve your air fryer meatballs with mashed potatoes and gravy. Air fryer mushroom dishes are excellent, too.
20. Air Fryer Roasted Potatoes
When you make air fryer roasted potatoes, you have a super dreamy side dish that will quickly disappear!
Serve these roasted potatoes with any meat main dish.
21. Air Fryer Roasted Garlic
Did someone say roasted garlic? Nom nom nom.
We love having roasted garlic to spread on crusty French bread, and the air fryer makes it super easy to make.
22. Hard Boiled Eggs
There are tons of ways to make hard boiled eggs, but one thing we can count on is that the days of boiling eggs in a pot of water are pretty much over (if we want them to be).
At my house, we have this perfect little egg cooker, but you can also make hard boiled eggs in an Instant Pot or your air fryer.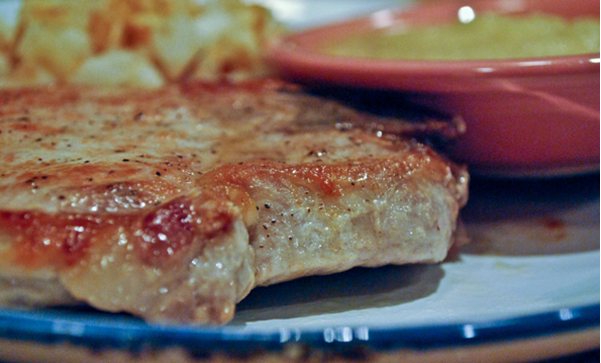 23. Air Fryer Pork Chops with Parmesan Cheese
Conover's air fryer pork chops get rave reviews, and you haven't really lived until you've tried them. This recipe for air fryer pork chops is one of our favorite air fryer recipes.
Ingredients in these air fryer pork chops include Dijon mustard, parmesan cheese, breadcrumbs, smoked paprika, onion powder, garlic powder, and black pepper.
Air Fryer Recipes for Quick and Easy Dinners
As you can see, there are endless answers to the question, "What can you cook in an air fryer?"
From donuts to bacon to cinnamon rolls, there are air fryer recipes for any occasion and dinner.
What is your favorite thing to cook in the air fryer? Let us know in the comments. You can also join us on social media:
Want more of the best air fryer recipes? Check out the video below for easy air fryer recipes that include air fryer stuffed peppers, air fryer pork tenderloin, air fryer chicken tenders, air fryer whole chicken, air fryer steak, air fryer burgers, and even air fryer Oreos.
This recipe may contain affiliate links, which means that I may receive a commission if you make a purchase using these links. As an Amazon Associate, I earn a small amount of money from qualifying purchases.