Corn maque Choux is an easy New Orleans Cajun recipe to make. This delicious New Orleans recipe is made of corn and peppers sautéed in bacon grease and spiced with Creole seasoning or Cajun seasoning.
I prefer Slap Ya Mama Creole seasoning, but there are a few other good brands out there. You can use Tony Chachere's Creole seasoning, too, to give your corn maque choux a kick.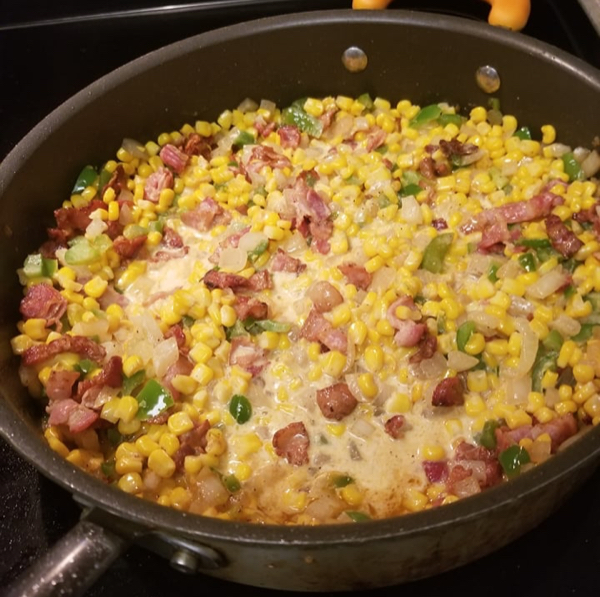 Or, if you have the time, you can make your own mixture of Cajun seasoning for your favorite Cajun and Creole recipe ideas. It's handy to have this Cajun seasoning on-hand for recipes such as gumbo or a seafood boil (shrimp boil).
Cajun food is known for being well-seasoned, but some people misunderstand this dish as spicy.
Corn cob maque Choux is an excellent side dish that goes with just about everything.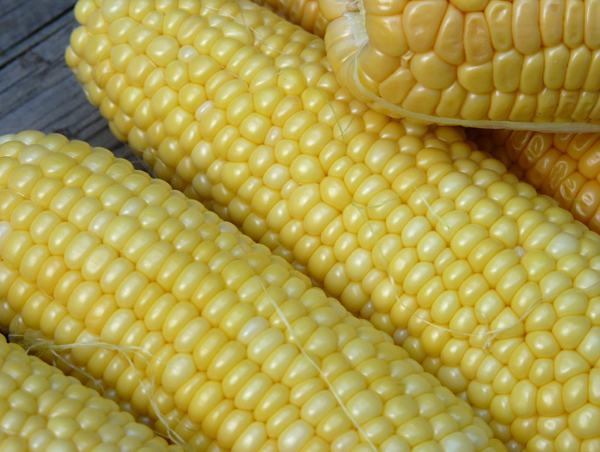 How Do You Pronounce ?
You may not have heard of this dish because it is rare to see it on a restaurant menu, and I don't get it since it's delicious and surprisingly easy to make.
Maque choux, a mix of Native American and Cajun French influences, is pronounced mock shoe.
The Cajun corn dish is very popular in South Louisiana.
Now, some people say that maque choux is a Creole dish, but I've always heard that it's a Cajun side dish. Regardless of who can claim it, Cajuns and Creoles have a vibrant history.
This recipe is a vegetable dish mixed with bacon (bacon is everything in southern cooking), and it is delectable. 
When Did Originate?
What is the history of maque choux? I'm not sure when this beloved Louisiana recipe originated, but I did find a reference via Google that dated it back to 1930. Cajuns, by the way, first went to Louisiana between 1765 and 1785. And that's something that I could write a book about. They have quite a history of trying to find a country to call home.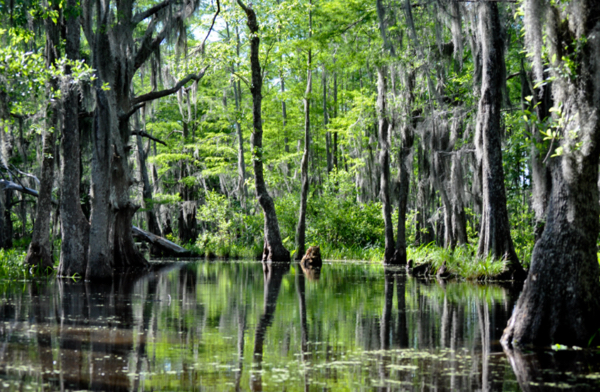 Ingredients
I like to gather the ingredients before I start cooking a meal, including sea salt and black pepper.
For this dish, you'll need to round up:
6 slices of
or
diced
diced
diced
or
Slap Ya Mama or Tony Chachere's are good Creole seasonings. When you make this dish for the first time, it will taste as if you've made it for your entire life. Well, not your entire life. I'm pretty sure that there aren't any cooks that are toddlers.
You only need one pot or pan to create this yummy dish. I've seen some recipes that call for tomatoes in the maque choux, but I just cannot with those people. But if you want to, you can add diced tomato. I won't tell on you. You're going to have to do a fair amount of dicing of the vegetables. I try to use red bell pepper and green bell pepper, but I tend to use what I have in my kitchen.
And who wants to go to the store for one red bell pepper? Not me. No sir. So, I'm just using the green bell pepper. So there, world!
Can You Use Canned Corn in Maque Choux?
You can shuck some fresh corn kernels or use frozen. Or you can use frozen shucked sweet corn.
In a pinch, you can even make maque choux with canned corn that is drained and rinsed.
One way we love to make our favorite maque choux recipe is with grilled corn and even fried corn kernels. We have also seen a maque choux recipe in Southern Living made with creamed corn.
Other Ingredient Options for
If you want to try some other ingredients for this corn maque choux recipe, go for it!
Some ideas include green onion, okra, cayenne pepper, hot sauce, diced tomato, red pepper flakes
If you use cayenne pepper, remember that a little cayenne goes a long way.
And you can substitute andouille sausage for the bacon. It tastes delicious both ways.
Do you want to use butter in your maque choux? We've seen recipes that call for butter. If butter is your thing, go for it.
Weight Watchers Friendly

This delicious Cajun recipe is loaded with delicious veggies, so it's a dream recipe for people who are following the Weight Watchers diet (now WW).
The veggies are zero points foods for most people, depending on how you have your Weight Watchers zero points foods set up in the new Personal Points program. For some people, corn is not a zero point food, so keep this in mind.
For the bacon, you can use pork bacon but maybe use a little less of it. Two slices of crispy bacon have just 4 Personal Points, and some folks consider this to be a worthy splurge to experience the joy of bacon.
Alternatively, you can use turkey bacon. Two slices of turkey bacon have 2 Personal Points.
In addition to bacon, you can also make your maque choux with turkey link sausage. We have also seen maque choux made with shrimp.
What about sauteeing in bacon grease? Bacon fat adds a lot of flavor, as does butter. However, if you're following any type of diet, you can always use olive oil, which is not saturated fat and is healthier for you.
Weight Watchers Heavy Cream Substitutions
For the heavy cream that this recipe calls for, you can easily substitute any of the following:
Fat free half and half (1/2 cup = 2 points)

Unsweetened and unflavored almond (1/2 cup = 0 points)
Fat free skim (1/2 cup = 1 point)
You can substitute chicken broth for the if you like. Both are very good. or
Tiff follows Weight Watchers and she said that for this maque choux recipe, she would splurge and enjoy that creamy fat free half and half for 2 points.
To transform this maque choux recipe into a vegetarian recipe, simply leave out the bacon or use a vegetarian bacon substitute. If you want to make a vegan maque choux recipe, you can use a cream substitute such as almond milk.
Can You Freeze
Notes: You can absolutely freeze your cooked maque choux. It should stay good in your freezer for up to 3 months.
Conover's Cajun
Ingredients
5 slices of
1 small diced
3 cups of defrosted or 4 ears of , shucked
1 , diced
1/2 cup of
1 tablespoon such as Slap Ya Mama or 's

1

, diced
Sea and to taste
Instructions
Round up your ingredients starting with the , , , , and ., , diced ,
Cut the into small pieces (an inch or less), then cook the pieces over until it's fairly crisp for about 7 or 8 minutes.
Add

the

and to the cooked .
Add the , and stir for about 30 seconds over . Stir for a few minutes before adding the defrosted .
Let the cook for about ten minutes in the with the veggies, then add ½ cup of .
Add sea and to taste.

Remove from the heat, and you're good to go.

Let's eat!
Easy Cajun Corn Maque Choux
This is called good eating!
Ingredients
5

slices

of bacon

3

cups

of frozen corn

1

diced onion

1

clove

of garlic

1

whole

red pepper, diced

1

whole

green pepper diced

1

tablespoon

of Creole seasoning. I use Slap Ya Mama

1/2

cup

heavy cream
Instructions
Round up your ingredients starting with the bacon, corn, diced onion, red bell pepper, green bell pepper, garlic, Creole seasoning, and heavy cream.

Cut the bacon into small pieces (an inch or less), then cook it until it's fairly crisp for about 7 or 8 minutes.

Add the garlic, and stir for about 30 seconds. Stir for a few minutes before adding the defrosted corn.

Let the corn cook for about ten minutes in the bacon grease with the veggies, then add ½ cup of heavy cream.

Add salt and pepper to taste. Remove from the heat, and you're good to go. Let's eat! 
Nutrition
Serving:
1
cup
Calories:
101
kcal
Carbohydrates:
1
g
Protein:
1
g
Fat:
11
g
Saturated Fat:
7
g
Polyunsaturated Fat:
1
g
Monounsaturated Fat:
3
g
Cholesterol:
34
mg
Sodium:
9
mg
Potassium:
29
mg
Fiber:
1
g
Sugar:
1
g
Vitamin A:
438
IU
Vitamin C:
1
mg
Calcium:
20
mg
Iron:
1
mg
This recipe may contain affiliate links, which means that I may receive a commission if you make a purchase using these links. As an Amazon Associate, I earn a small amount of money from qualifying purchases.
Before you go, be sure to review this recipe, and tell us how your maque choux turned out. Let us know in the comments if you tweaked the recipe. Also, please give us a follow on Facebook and Instagram.