I absolutely love air fryer pork chops.
However, I love all types of pork chops recipe dinners. Is it even possible to get a pork chop dinner wrong?
I like smothered pork chops, stuffed pork chop dinners, fried breaded pork chops, and most recently, I'm in love with air fryer parmesan pork chops.
Easy air fryer recipes are simple, fun to make, and they're super healthy.
Let's Talk About Air Fryers
The air fryer recipes craze is understandable because air fryer cooking is a much healthier way to cook.
Air frying is far better than frying food in grease. In addition to being healthier, air fryer cooking is a lot less messy than frying food on the stovetop or even in the oven.
And air fryer parmesan pork chops are so juicy it's unreal.
I didn't jump on the air fryer bandwagon at first. My thought on that was that the air fryer revolution might just be a passing craze.
But I wanted an indoor grill, so my boo bought me a Ninja Foodi Air Fryer 6 in 1 that includes an air fryer. That's when I jumped on the air fryer bandwagon, and now I use it a few times per week.
This is my Ninja Foodi:
I'll give up my air fryer when you pry it from my cold, dead hands.
There are many different amazing air fryer brands, but the Ninja Foodi Air Fryer is the most popular.
However, you'll notice that the owners swear by whatever brand they have. I think that's just because there are so many good brands out there, or maybe we're all crazy. The Cosori Air Fryer Oven Combo is hugely popular, with more than 70K reviews on Amazon. 
Why Are These The World's

Best

?
What makes these the perfect pork chops?
Ah, it's all in the flavor, and using dijon mustard in this pork chop recipe adds to the flavor and gives it a little zing.
Before dredging the boneless chop in parmesan cheese, many people use an egg mixture. But dijon mustard tastes better, in my humble but always correct opinion.
This easy recipe makes the BEST pork chops in the world: the entire planet, y'all. The best in the entire universe! OK, I might be overdoing it just a tad bit.
You can air fry other main dish meat dinners with this recipe, too. Meat air fryer recipes are great to have on hand for cooking all types of meat, including air fryer chicken breast, air fryer chicken thighs, turkey meat, veal meat, venison meat, game meat, and other meat cuts.
This air fryer recipe is also great for cooking pork rinds.
Parmesan

Ingredients
For this air fryer pork chops recipe, you need the following ingredients, seasoning, and recommended products.
Dijon mustard

Smoked paprika (or sweet paprika )
We love using garlic powder seasoning in this recipe, but you can use fresh garlic if that's your thing. You can also use onion flakes in place of the onion powder. In some cases, you can find a seasoning mix that has both onion powder, black pepper, and garlic powder.
Should I Cook Thick Cut or ?
You can make this pork chop recipe with any cut of pork chop. We like making this recipe with thin cut pork chops.
Keep in mind that if you use a super thick pork chop, you'll need to adjust the cooking time.
Can I Make with ?
You need to thaw your frozen pork chops before making this recipe.
Do I Use Fresh Or Should I Grate Fresh ?
You can do either for this pork chop dinner, although I buy the shredded kind they sell at the grocery store that comes in a plastic bag.
I'm sure it would be great to use grated from fresh parmesan cheese, but we don't always have time for that, and there is nothing wrong with buying it already shredded. I'm into saving time and energy.
Oh, and saving money is a biggie with me, too. All I need to know is that I love parmesan cheese (actually any cheese), so give it to me in any way possible, thankyouverymuch. I appreciate that.
Alternative Ingredients
You can experiment to make this delicious pork chops recipe your own.
Can you make air fryer bone in pork chops? Sure you can!
What Is Going To Bring The Together?
I'm so glad you asked that. Well, OK, you did not ask that. I did, but anyway, let's move on.
The dijon mustard brings this dish home, and when it's mixed with parmesan cheese and some seasonings, this recipe is the bomb (Yes, I still say the bomb from time to time. Don't judge me). The air fried pork chops are super juicy, and the outside (with the Dijon mustard and parmesan cheese with seasonings) has so much flavor when you bite into it. OK, I know you're using a fork, but you get the picture, amirite?
Oh, and they are delicious. <drool>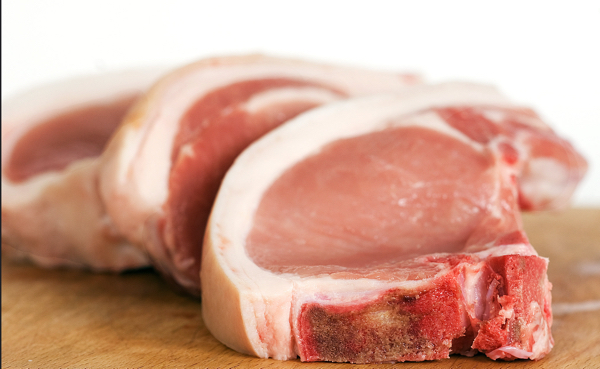 How to Make
First things first. Pick out some somewhat thick pork chops at your grocery store or at the butcher to air fry. It's better to get them to room temperature before cooking.
The cooking time for a boneless pork chop depends on the thickness of the boneless pork chops. The best way to tell if they're done is to use a meat thermometer after cooking and be sure the chops have an internal temperature of at least 145°.
This is our favorite meat thermometer:
I cooked some thin cut pork chops recently with the air fry method, and it only took 5 minutes. But usually, they take about 10 minutes to cook.
Follow these steps to make your delicious air fryer pork chops with parmesan cheese.
to 375 degrees
Rinse the well, then pat them dry with a paper towel, then set aside.
Put the mustard in a small container, and thoroughly brush the on both sides with it.
Mix the , paprika, , , and pepper together in a bowl or plate.
Coat the in the mixture.
Spray your with .
Place the in the . If they don't all fit, cook two batches. If the are super thick, it might take longer to cook. Make sure the are at least 145 degrees.
Some folks may want to brown their air fryer pork chops using olive oil, which is low in saturated fat. To do this, just heat some olive oil in a skillet, then place the pork chops in the olive oil to brown them.
What Can I Serve With The ?
You can serve the pork chops with any of these delicious side dishes:
corn on the cob

Potato salad

broccoli

Cornbread (hot damn!)

Green salad

or slow cooker scalloped potatoes
mashed potatoes
(yowser!)

Dinner rolls

Stuffing
And well, you get the idea. Pork chops go with just about everything.
Weight Watchers ( Version)

Can you make this air fryer pork chops recipe so that it's Weight Watchers friendly? Absolutely! Air frying is great for Weight Watchers recipes.
Surprisingly, a 3-ounce pork chop has just 3 Personal Points (formerly SmartPoints). The fact is, you can enjoy a delicious juicy pork chop whenever you want.
The bread crumbs in this recipe have about 3 Personal Points for 1/4 cup. That's not bad!
The part where you'll add in a lot of points is with the parmesan cheese, which is about 4-5 points per ounce, depending on which type you buy. You can opt for reduced fat parmesan cheese, which has 3 points per ounce.
Conver's with
"Yes, would you please just shut up and just give me the damn recipe?" A quote from one of you, probably.
Let's do this.
Serves: 4
Prep: 10 minutes
Cooking time: 10 minutes
Total: 20 minutes
Let's eat!
The World's Best Air Fryer Parmesan Pork Chops
I've never had pork chops this juicy before.
Ingredients
4

Pork chops

1/2

cup

Dijon mustard

1/2

cup

Parmesan cheese

3

tablespoons

Breadcrumbs

1

teaspoon

Paprika

1

teaspoon

Garlic powder

1

teaspoon

Onion powder

1

teaspoon

Pepper
Instructions
Preheat the air fryer to 375 degrees

Rinse the pork chops well, then pat them dry with a paper towel, then set aside.

Put the mustard in a small container, and thoroughly brush the pork chops on both sides with it.

Mix the breadcrumbs, paprika, garlic powder, onion powder, and pepper together in a bowl or plate.

Coat the pork chops in the mixture.

Place the pork chops in the air fryer. If they don't all fit, cook two batches. If the chops are super thick, it might take longer to cook. Make sure the chops are at least 145 degrees.
Nutrition
Serving:
1
chop
Calories:
311
kcal
Carbohydrates:
9
g
Protein:
36
g
Fat:
14
g
Saturated Fat:
6
g
Polyunsaturated Fat:
2
g
Monounsaturated Fat:
6
g
Trans Fat:
1
g
Cholesterol:
98
mg
Sodium:
663
mg
Potassium:
596
mg
Fiber:
2
g
Sugar:
1
g
Vitamin A:
166
IU
Vitamin C:
2
mg
Calcium:
196
mg
Iron:
2
mg
This recipe may contain affiliate links, which means that I may receive a commission if you make a purchase using these links. As an Amazon Associate, I earn a small amount of money from qualifying purchases.
Note: Be sure to give us a review on the air fryer pork chops. And follow us for more air fryer recipes. Also, say hello in the comments, and follow us on Facebook and Instagram. Thanks for stopping by!