Did you know there's such a thing as healthy pizza recipes?
Most people associate pizza (and pizza dough especially) with high calories and greasy restaurants. But pizza can be a healthy meal if you use the right ingredients.
That is great news for those who love pizza but feel guilty for eating pizza dough. Most health-conscious people steer clear of pizza even though it's one of the most popular foods in the world.
Luckily, there are many healthy pizza recipes that make pizza a great way to treat yourself once again.
Here are a few healthy pizza recipe ideas for you to check out for your next pizza night. We made sure to include a recipe with pizza toppings for any diet, so you are sure to find something delicious!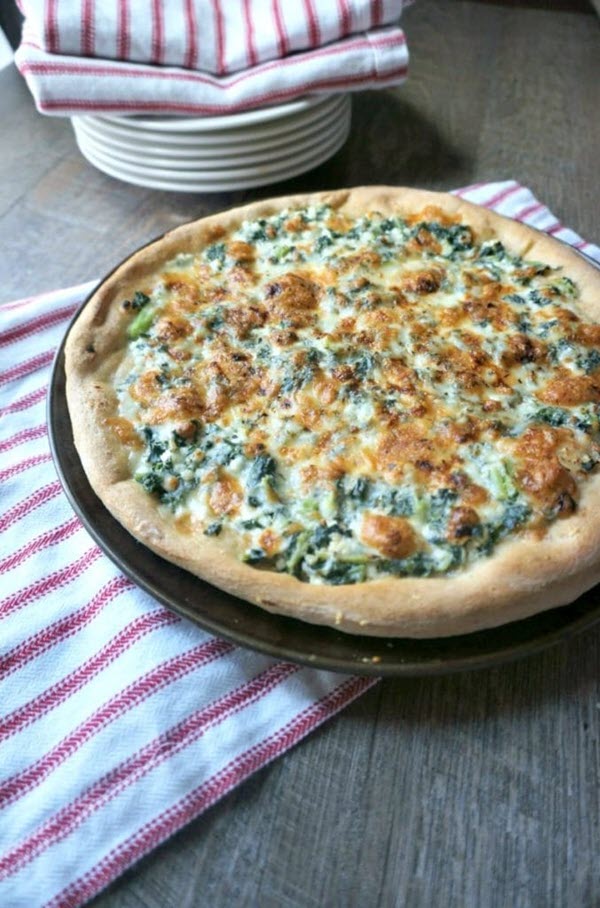 1. White Spinach Pizza
White spinach pizza is one of the best recipes if you're looking for a good vegetarian pizza. It should come as no surprise that spinach is one of the healthiest toppings you can put on a pizza. Of course, the health benefits of spinach are well-documented.
Ingredients
3/4 cups of warm water
2 tablespoons of yeast
1/2 tablespoon of olive oil
1/2 tablespoon of honey
1 3/4 cups of whole white wheat flour
1/2 teaspoon of salt
1 teaspoon of minced garlic
1/2 cup of ricotta cheese
1/2 cup of spinach
1/4 cup of parmesan cheese
1 teaspoon of oregano
2 cups of mozzarella
1/8 teaspoon of red pepper flakes
Directions
To make the homemade pizza dough, you're going to combine the water with yeast and let it sit for a few minutes in a mixing bowl.
Next, you're going to mix honey and oil into the dough.
Add salt and flour slowly as you mix. Once you've mixed it, knead the dough for five minutes on a floured surface.
Then, you'll put the dough in an oiled bowl, cover it with plastic wrap, and wait 30 minutes for the dough to rise.
Next, preheat the oven to 425 degrees. Mix the olive oil, garlic, and salt and spread them on the dough.
After that's spread, combine the ricotta, spinach, oregano, parmesan, and red pepper flakes. Spread them on the homemade pizza dough and top it off with mozzarella.
Then, you'll bake for 20 minutes until the cheese melts.
2. Cauliflower Crust Pizza Dough
This is a unique gluten-free option for our list of healthy pizza recipes. With Cauliflower crust pizza, you'll be using cauliflower for the dough instead of whole wheat flour. This is an excellent choice as cauliflower is a great source of fiber and is full of antioxidants. You'll also be using an egg and yogurt to help hold the crust together. This is a thin crust pizza, so it's nice and crispy.
Ingredients
2 cups of grated cauliflower
1 egg
1/2 a cup of yogurt
Fresh basil
1 teaspoon of Italian seasoning
Your choice of vegetables
1/2 a cup of grated mozzarella
3/4 cup of marinara sauce
Directions
First, you'll preheat the oven to 400 degrees. Use a dish towel to squeeze the moisture out of the cauliflower.
Next, you'll place the cauliflower in a bowl, then add the egg, yogurt, and spices.
Fold this mix together until it's evenly combined.
Then, you'll put the dough on a baking sheet and spread it with your hands until it's 3/4 of an inch thick.
Bake the dough for about thirty minutes.
Once baked, you can top it off with marinara, mozzarella, and vegetables.
Finally, cook it for another five minutes to melt the cheese.
3. Fat Head Pizza
The Fat Head pizza is easily one of the most popular healthy pizza recipes you can find. It got its distinctive name from creator Tom Naughton, who also made the movie "Fat Head." It meets the criteria for several diet options such as low carb, gluten-free, sugar-free, etc. It's also a very versatile dish. You can choose sausage, pepperoni, bacon, and many other types of meat for your toppings.
Ingredients
1 1/2 cup of shredded mozzarella
3/4 cup of almond flour
2 teaspoons of cream cheese
1 teaspoon of white wine vinegar
1/2 teaspoon of salt
1 egg
1 teaspoon of butter
1/2 cup of unsweetened tomato sauce
1 1/2 cup of shredded mozzarella
1/2 teaspoon of oregano
Meats of your choice
Directions
To make Fat Head healthy pizza recipes, start by preheating the oven to 400 degrees.
Put the mozzarella and cream cheese in a bowl and microwave them for one minute.
Then, stir them until they melt together.
Add the egg and almond flour and stir them together well.
This will act as your dough.
Next, you put it on parchment paper and flatten it into a circle that's eight inches in diameter.
Make sure it has a dough-like consistency.
After you've done that, make fork holes all over the pizza dough to make sure it cooks evenly and bake it for ten minutes.
Saute the ground beef in olive oil or butter during this time.
Once the crust is finished baking, spread a thin layer of tomato sauce.
Top it off with meat and cheese.
Finally, bake for ten to fifteen more minutes to melt the cheese. Additionally, you may sprinkle the pizza with oregano if you'd like.
4. Broccoli Crust Pizza Dough
The Broccoli crust pizza is an unusual healthy pizza dish that you have to try yourself. Low in saturated fat, the crust actually uses broccoli as a base, and it comes out of the oven green. It's also just as healthy as you might expect. It's both gluten-free and low carb. You're also free to use any combination of sauces and toppings you desire. Do you like thin crust pizza? If so, this may quickly become your favorite.
Ingredients
1 head of broccoli
2 eggs
2 cups of mozzarella cheese
1 cup goat cheese (optional)
Bell pepper
1/4 cup of parmesan cheese
1/2 teaspoon of garlic powder
1/2 teaspoon of Italian seasoning
1/4 teaspoon of salt
1/4 teaspoon of pepper
1/2 cup of marinara
1/4 cup of mushrooms
1 handful of sliced tomatoes
Your choice of additional toppings
Directions
First, preheat the oven to 425 degrees.
Grate the broccoli with a cheese grater or food processor.
Put the broccoli in a bowl and add the eggs, parmesan, salt, pepper, garlic powder, Italian seasoning, and one cup of mozzarella.
Mix them together until they take the form of a dough.
Flatten the dough into the shape of a pizza that's a 1/2 inch thick on a baking sheet.
Then, place it in the oven for ten minutes.
Once it's finished, spread a layer of marinara sauce and top it off with the remaining cheese, mushrooms, and tomatoes.
Finally, bake the pizza in the oven for ten more minutes to melt the cheese.
Make sure you let it cool for a few minutes before you eat.
5. Healthy Vegetarian Pizza
This veggie pie with healthy pizza toppings is an excellent flavor choice for vegetarians. The vegetarian pizza — based on a variety of similar dishes found at regular pizza chains — tastes great and gives you plenty of veggie options to eat. This veggie pizza recipe is great as grilled pizza.
Ingredients
1 1/2 inch pre-baked pizza crust
2 tablespoons of olive oil
1 cup of tomato sauce or pizza sauce
1 cup of mushrooms
Fresh basil
Bell pepper
1/2 cup of onions
1/2 cup of green bell peppers
2 cups of mozzarella cheese
1/4 cup of black olives
Additional veggie toppings, including sweet potato, caramelized onions, red onion, zucchini, and more
Directions
To make this homemade pizza, preheat the oven to 350 degrees.
Put the crust on a pizza pan or pizza stone and brush it evenly with olive oil.
Next, spread the tomato sauce.
Then, sprinkle your choice of veggies over the sauce and top it off with cheese.
After this, you'll bake the pizza for ten minutes to make the cheese melt.
Let it cool for a few minutes and it's ready to eat.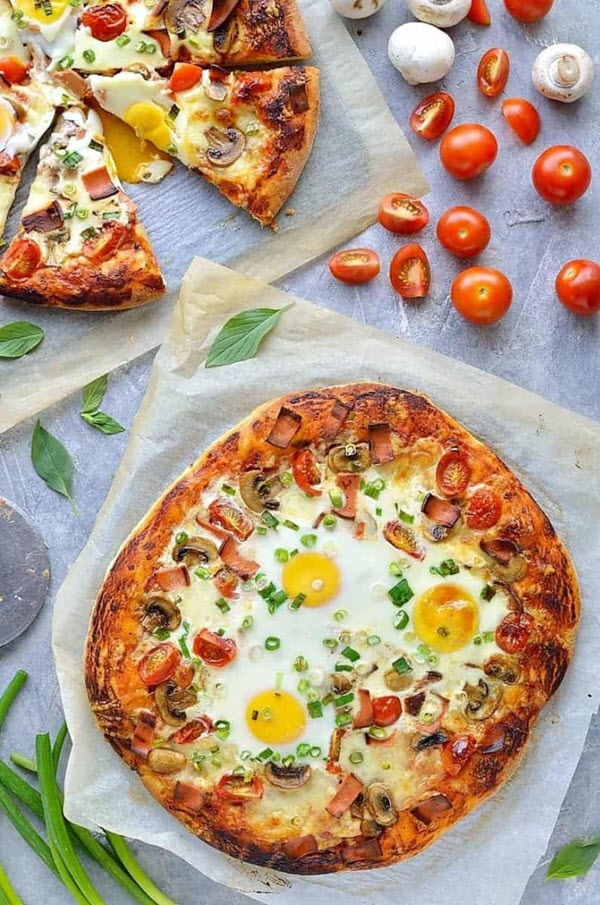 6. Vegetarian Breakfast Pizza with Eggs
Who says you can't have homemade pizza for breakfast? The vegetarian breakfast pizza is another excellent flavor choice for vegetarians. This pizza is also unusual because it uses eggs as one of its main ingredients. It looks and tastes like a great breakfast meal and is a wonderful way to start your day.
Ingredients
4 cups of white bread flour
2 teaspoons of fast action yeast
1 teaspoon of sugar
Bell pepper (optional)
1 teaspoon of salt
3 teaspoons of olive oil
1 1/4 cups of water
1 cup of tomato sauce or pizza sauce
250 grams of sliced mozzarella cheese
1 cup of cherry tomatoes
150 grams of grated cheddar cheese
1 1/2 cups of mushrooms
6 eggs
Fresh basil
Black pepper
Directions
For the dough, put the flour in a bowl and add the yeast, salt, sugar, and olive oil.
Gradually add water as you stir until it forms a dough.
Knead the dough on an un-floured surface for ten minutes.
Shape it into a ball and place it in a bowl.
Next, you'll cover it with cling film and wait an hour for the dough to rise.
Preheat the oven to 400 degrees and separate the dough into two balls.
Flatten each of them on a floured surface into ten-inch wide circles.
hen, place them both on baking sheets.
Next, you'll spread a layer of pizza sauce over each of them and top it with mozzarella and grated cheddar.
Scatter cherry tomatoes and mushrooms over the surface. Bake for ten minutes until the cheese melts.
Remove the pizzas and crack three eggs onto each one.
Return to the oven for ten more minutes to cook the egg whites.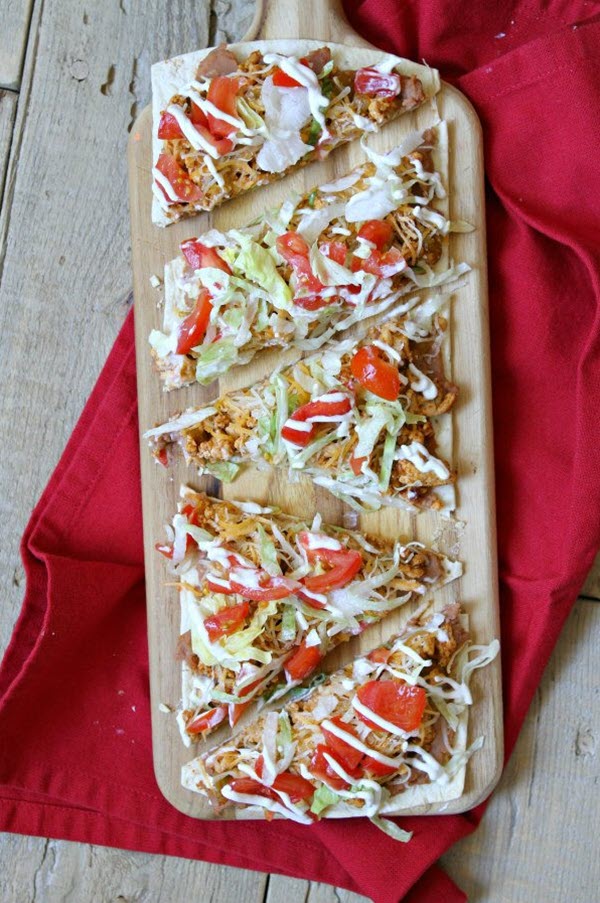 7. Taco Pizza
This healthy pizza recipe combines two great things in one. The taco pizza lets you add some taco seasoning to your homemade pizza, giving you the best of both worlds. This recipe is appropriate for those on the Paleo diet or a low carb diet. It's also very adaptable and gives you a wide range of toppings to choose from.
Ingredients
1 pound of ground beef or ground turkey
4 portabella mushrooms
1/2 cup of water
2 tablespoons of taco seasoning
1/4 cup of taco sauce
Any additional toppings such as shredded cheese, tomatoes, or lettuce
Directions
First, preheat the oven to 400 degrees and brush each side of the mushrooms with olive oil.
Then, season them with salt and pepper.
Place the mushrooms on a baking sheet with the stem side up, bake them for ten minutes, then flip them and repeat for five more minutes.
While they're baking, brown the ground beef in a skillet and add the taco seasoning and water.
Stir them together and cook until the meat cooks through.
When the mushrooms are ready, add a tablespoon of taco sauce to the stem side of each one.
Next, top the mushrooms with a 1/4 ground beef.
Finally, bake for another five minutes and add toppings as you see fit.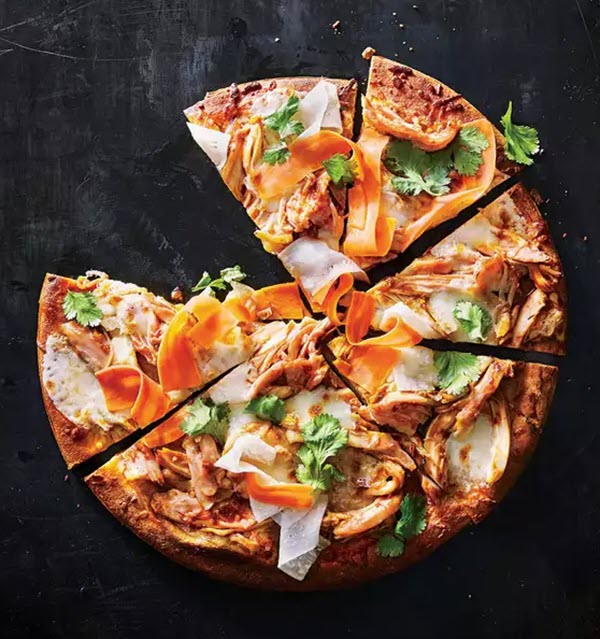 8. Korean Barbecue Pizza
Korean barbecue pizza is another dish that combines two great things together. This homemade pizza typically features fresh veggies and lean meats. Combine it with pizza, and you have a healthy meal that your friends and family will love.
Ingredients
3 Tbsp. of rice vinegar
2 Tbsp. of brown sugar
1 shaved daikon radish
3 Tbsp. of cilantro
1 teaspoon of chopped ginger
1/4 cups of water
1/2 teaspoon of cornstarch
1 Tbsp. of sambal oelek
4 ounces of shredded rotisserie chicken
1 pre-baked whole wheat pizza crust
3 ounces of mozzarella cheese
1 shaved carrot
Directions
In a small mixing bowl, combine one tablespoon of brown sugar with one tablespoon of vinegar.
Add the carrot and daikon radish and toss them. Allow them sit for ten minutes.
Then, add the cilantro and stir.
Over medium heat, warm the extra virgin olive oil in a medium skillet.
Add the fresh ginger and minced garlic cloves and saute for two minutes.
Next, stir in the soy sauce, sambal oelek, and remaining tablespoons of brown sugar and vinegar.
Stir until the mixture is boiling.
Reduce the heat before stirring in the cornstarch and water mixture, and let it simmer for two minutes.
Remove the pan from the heat and stir in the chicken.
Put the pre-baked pizza crust onto a pizza pan, pizza stone, or baking sheet.
Then, spread the chicken mix over the crust.
Sprinkle the mozzarella cheese liberally over the entire pizza.
Bake for ten minutes at 450.
Finally, you'll top this off with the carrot mix.
9. Hummus Vegan Pizza
Finding a good vegan pizza recipe can be quite a challenge. After all, cheese is usually considered to be a key ingredient in a homemade pizza. However, the hummus pizza meets this challenge by using hummus in the homemade pizza instead. This leads to a great meal that's healthy and 100 percent vegan. You can use a prebaked crust or make your own with this recipe. Either way, it's fairly straightforward.
Ingredients
3 and 1/2 cups of flour
1 teaspoon of salt
1 teaspoon of yeast
3 tablespoons of olive oil
1 pinch of sugar
10 sliced mushrooms
1 handful of spinach
1/2 cup of chopped artichoke hearts
2 teaspoons of dried oregano
1/2 cup of black olives
1 cup of hummus
1/2 cup of tomatoes cut in half
1 cup of water
1/2 red onion cut into rings
Zucchini (optional)
Fresh basil
Directions
To make the dough, combine all the dry ingredients in a bowl and add the olive oil and water.
Knead it with your hands until it takes the form of a dough, then shape it into a ball.
Cover the bowl with plastic wrap and wait an hour for it to rise.
Flatten the dough on a floured surface into either two pizzas or one large one. Spread the pizzas with hummus and top them off with the other toppings.
Finally, sprinkle the pizzas with oregano and bake on a pizza stone for 20 minutes at 350 degrees.
Healthy Pizza Recipes: Frequently Asked Questions
Of course, you probably have a few questions about healthy pizza recipes. Here are a few things you should know before you get started.
Can pizza be healthy?
Yes, pizza can be a healthy meal. You usually make it from cheese, bread, and tomatoes, and it can also use fruits and veggies for toppings. Unfortunately, most restaurants use an unhealthy amount of cheese and salt to boost their mainstream appeal. That has led to pizza having a negative health image.
You have to do a few things to make pizza healthy. First, you have to make the pizza yourself. You simply can't trust major restaurant chains to make healthy pizza for you. Next, you have to choose healthy ingredients to make your pizza. You end up with a healthy combination of foods if you use the right ingredients.
Finally, you have to eat in moderation. Even the best healthy pizza recipes shouldn't hit your table every night. That said, it can be a great way to treat yourself now and then. Healthy pizza can be an excellent dinner choice as long as you control yourself.
Will pizza fit into my diet?
Again, the answer is a resounding yes. There are hundreds of healthy pizza recipes, and you can easily find something that's right for you regardless of what kind of diet you use. You can find recipes for veggie diets, low carb diets, gluten-free diets, the paleo diet, and more.
We will discuss which recipes work best for which diets in the list below. Suffice to say, you shouldn't have any difficulty finding a recipe within your diet that appeals to you.
What will I need to make a healthy pizza?
Of course, this is going to change from one pizza to the next. Different recipes are going to call for different toppings and ingredients. Still, there are a couple of ingredients almost all healthy pizzas have in common.
For one, you'll be using whole wheat flour, wholemeal flour, or almond flour to make your pizza dough or pizza base most of the time. It is a much healthier alternative to other flour. There are also alternative ways to make the crust which we'll discuss below. We also recommend you make your own pizza sauce. That will help you cut down on sugar, which you can find in most store-bought pizza sauce.
More Healthy Pizza Recipes
Do you want more healthy pizza recipes? Check out this video that shows you how to make high-protein cheese pizza (with three types of cheese!) and pita pizza dough.
This recipe may contain affiliate links, which means that I may receive a commission if you make a purchase using these links. As an Amazon Associate, I earn a small amount of money from qualifying purchases.