If you're looking for delicious, easy, and healthy Instant Pot shrimp recipes for cooking, we've got you covered!
We love cooking Instant Pot recipes like Instant Pot shrimp scampi, Instant Pot shrimp biryani, shrimp and cheese grits, shrimp paella, and more, so we scoured the internet for the best of the best Instant pot shrimp dinners.
Whether you're looking for recipe ideas with fresh shrimp or you're hoping to find some frozen shrimp Instant Pot recipes, there is something on this excellent curated list for you.
Ready for some delicious cooking? Let's dive into this list of Instant Pot shrimp recipes.
How Do You Cook Shrimp in an Instant Pot? 
To cook shrimp in the Instant Pot or another pressure cooker, you can use a few different methods for the best results.
1. Low Pressure Cooking
Use the LOW pressure setting. For low pressure cooking, the cooking time will vary between 1 and 4 minutes.
2. High Pressure Cooking
Use the HIGH pressure setting. For high pressure cooking, the cooking time will be between 0 and 2 minutes.
3. Residual Heat Cooking
Allow your shrimp to cook in the hot sauce via residual heat. Many of the Instant Pot shrimp recipes on our list do best when cooked with residual heat. What this means is that the rice or sauce is cooked first. Then, the shrimp is added and allowed to cook in the residual heat of the sauce.
When you cook Instant Pot shrimp recipes with residual heat, you can avoid overcooking your shrimp.
Follow these steps for cooking shrimp with residual heat.
Pressure cook your Instant Pot shrimp recipe WITHOUT the shrimp. You may use various ingredients, including sauce, pasta, rice, etc…
Release the pressure.
Open the lid of the Instant Pot and add your shrimp. Try to not allow too much of the steam to escape.
Close the Instant Pot's lid for 10 minutes. Note: If the Instant Pot lid is difficult to close, put the steam release button in the VENTING position.
Instant Pot Frozen Shrimp Recipes
Do you have a bag of frozen shrimp and want to substitute your frozen shrimp for fresh shrimp? No problem.
To use frozen shrimp in a pressure cook recipe, simply add your frozen shrimp to the other ingredients and cook using the original pressure cooking time of the recipe.
If using frozen shrimp to pressure cook Instant Pot shrimp recipes, don't use the residual heat cooking method.
1. Instant Pot Shrimp Chipotle Soup
We are all about seafood chowder or hearty shrimp soup, so this delicious recipe checks off all the boxes.
This shrimp chipotle soup is full of delicious ingredients that include dry white wine, chicken stock (chicken broth or seafood stock also work), whole milk (or heavy cream), chipotle peppers in adobo sauce, dried thyme, bacon, and black pepper.
Veggies include celery, onion, potatoes, fresh corn, and garlic.
2. Instant Pot Stir Fry Shrimp
You don't have to have a wok to make a delicious shrimp stir fry dinner!
For Instant Pot shrimp stir fry, you need ginger, soy sauce, sriracha sauce, honey, avocado oil, red chili flakes, and avocado oil.
Use whatever veggies you like in your shrimp stir fry. We like red bell pepper, onion, snow peas, and zucchini.
3. Instant Pot Shrimp and Vegetables
For something fresh and different, try using root veggies and green beans with your shrimp instead of the traditional lighter veggies.
The seasoning in this recipe is cumin, chili powder, black pepper, oregano, onion powder, and garlic powder.
4. Instant Pot Shrimp Fried Rice Recipe
In the time it takes you to browse the online menu, make the call to place your order, and wait for your takeout to be delivered, you can whip up your own Instant Pot shrimp fried rice.
For this recipe, you can use a frozen carrots and peas mixture.
Other ingredients include soy sauce, fish sauce, Shaoxing wine, garlic cloves, eggs, and white pepper.
5. Instant Pot Shrimp Fajitas
Chicken fajitas and beef fajitas are yummy, but when you have shrimp fajitas, it's an extra special meal.
For an easy side dish, serve your Instant Pot shrimp fajitas with fluffy Instant Pot rice or Mexican rice.
6. Peel and Eat Shrimp Instant Pot Recipe
One of the easiest ways to enjoy cooked shrimp is to simply peel them and eat them. Even better, peel-and-eat shrimp is incredibly easy to make.
You can steam raw shrimp for a shrimp cocktail, or you can use your Instant Pot. It's a no-brainer which method is easiest!
7. Instant Pot Shrimp Boil Recipe
If you're craving an Instant Pot low country shrimp boil, this recipe will make your dreams come true.
For this Instant Pot shrimp boil recipe, you need Old Bay Seasoning, fresh parsley, lemon wedges, andouille sausage, a beer, and some Louisiana hot sauce.
Old Bay Seasoning really adds tons of flavor, and there's just no substitute for Old Bay Seasoning.
Veggies are corn on the cob, red potatoes, and onion.
8. Low Carb Instant Pot Shrimp Scampi Recipe with Rice
Shrimp scampi is easily one of the most beloved shrimp recipes, and when you make Instant Pot shrimp scampi, it's super easy.
This shrimp scampi recipe is naturally low carb. To keep your carbs low, simply serve this shrimp scampi recipe with zoodles (zucchini noodles), cauliflower rice, or as a stand-alone dish with a green salad. Shrimp scampi is also great with angel hair pasta or garlic bread.
9. Instant Pot New Orleans Shrimp Gumbo
We are all about New Orleans flavor, and this Instant Pot gumbo recipe will not disappoint you.
Use Creole seasoning or Cajun seasoning for this New Orleans gumbo recipe. Veggies include okra, celery, onion, bell pepper, and garlic.
For the meat, you can be super creative. We like our gumbo with andouille sausage, chicken, crab meat, and shrimp.
We have an extra pot for our Instant Pot, and we use it to cook the rice first. Then, we insert the other pot into the pressure cooker to make our Instant Pot gumbo. This non-stick Instant Pot replacement is perfect.
10. Instant Pot Coconut Shrimp Curry
For a curry, you need decadent spices and seasonings that include coriander powder, turmeric, red chilli powder, smoked paprika, ginger, coconut milk, tomato puree, and minced garlic cloves.
This Instant Pot curry recipe is excellent with fluffy Instant Pot rice such as basmati rice or brown rice.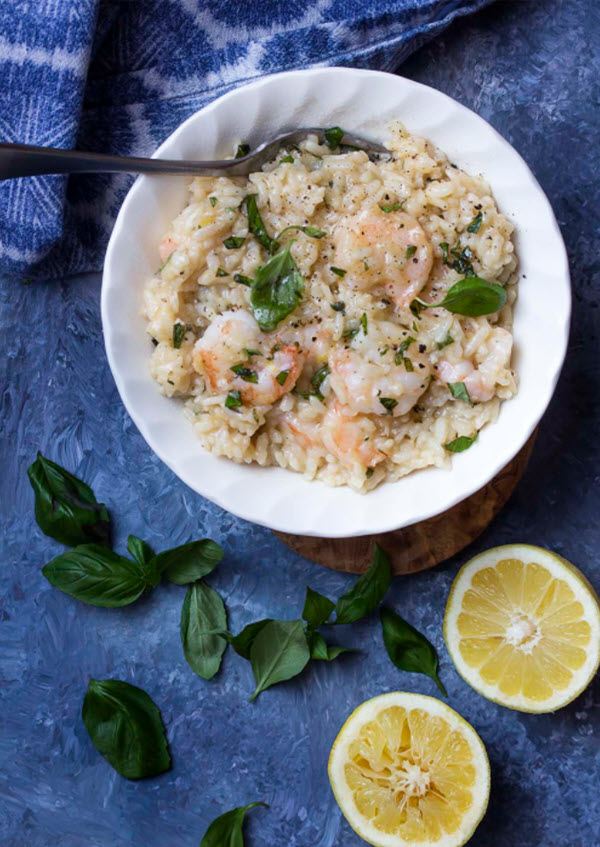 11. Instant Pot Risotto with Peas and Lemon Shrimp
If you're in love with risotto, you may already know that a pressure cooker makes it super easy to whip up a tasty and nutritious meal.
This recipe gives you a shrimp risotto dinner that is creamy and super simple.
The lemon juice and lemon zest make this shrimp risotto recipe extra exciting. Serve your risotto with air fryer garlic bread.
12. Instant Pot Lime Cilantro Shrimp Tacos
These Instant Pot shrimp tacos are served with a flavorful cilantro lime sauce that will delight your tastebuds. The sauce's secret ingredient is Greek yogurt (or sour cream), which makes it oh so creamy.
You can use a store-bought taco mix or make your own using garlic powder, onion powder, cumin, cayenne pepper, sea salt, and chili powder.
13. Instant Pot Jambalaya
We love Louisiana cooking, and this Instant Pot Jambalaya recipe tastes like it's straight out of New Orleans!
For this Instant Pot jambalaya, you need chicken breasts, andouille sausage, onion, bell pepper, scallions (green onions), celery, garlic, and diced tomatoes.
Seasonings and spices include Cajun seasoning, basil, thyme, and Kosher salt.
14. Instant Pot Shrimp Pasta with Creamy Tomato Sauce
We love a creamy pasta sauce. I've even started adding some heavy cream or fat free half and half to my spaghetti sauce to make it creamy.
You can use store-bought pasta sauce or marinara sauce in jars to make this delicious creamy sauce. Serve the sauce over a sturdy pasta like rotini pasta, macaroni noodles, or penne pasta.
15. Instant Pot Shrimp Alfredo Recipe
Alfredo sauce with angel hair pasta is always a winner, and when you bring shrimp to the equation? Heaven!
For this recipe, you can use a jarred Alfredo sauce with your pasta or you can make a homemade version using heavy cream and parmesan cheese. Serve your shrimp Alfredo pasta with air fryer garlic bread for a complete meal.
16. Instant Pot Garlic Butter Shrimp
This recipe is similar to Instant Pot shrimp scampi, but it's slightly different. Instant Pot shrimp scampi is creamier and has parmesan cheese.
Serve your garlic butter shrimp over Instant Pot rice, brown rice, or pasta.
17. Instant Pot Shrimp Biryani
We love an aromatic and flavorful shrimp biryani, and this recipe is super easy to make.
Ingredients include ghee (or butter), ginger-garlic paste, cashews, raisins, green chillies, bay leaves, tomatoes, fresh coriander, fresh mint leaves, garam masala, turmeric, onion, and coconut milk.
Serve with Instant Pot rice.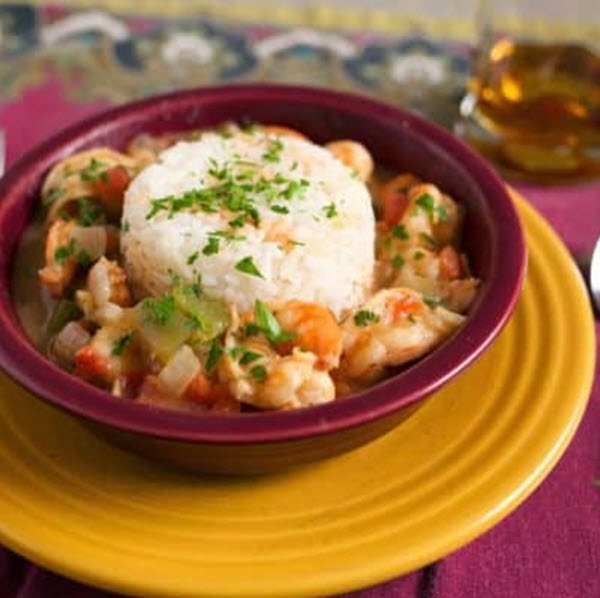 18. Instant Pot New Orleans Shrimp Etouffee
One of the many things Conover and I have in common is a love for all things New Orleans. Especially the food!
This classic shrimp etouffee recipe calls for tons of veggies, including onion, carrot, minced garlic, green bell pepper, diced tomatoes, and celery.
Seasoning and spices include a bay leaf, fresh thyme (or dried thyme), Cajun spice rub or Cajun seasoning, Kosher salt, shrimp stock, hot sauce (we love Tabasco sauce), and black pepper.
Serve your Instant Pot etouffee over Instant Pot rice.
19. Creamy Shrimp Soup in the Instant Pot
How about a hearty and creamy soup for a cold winter evening?
This soup is both creamy and satisfying, so what's not to love?
The heavy cream and cream cheese work together beautifully for a super creamy soup you will love.
How about this: It's also full of veggies, including potatoes, carrots, celery, onion, and garlic.
Spices include dried thyme, cayenne pepper, smoked paprika, bay leaf, and fresh parsley.
20. Instant Pot Shrimp Paella
This shrimp paella recipe is made with Spanish chorizo, tiger shrimp, Spanish yellow rice, saffron, jumbo shrimp, smoked paprika, green peas, red bell pepper, and green bell pepper.
You need shrimp stock to make the best Instant Pot shrimp paella, but shrimp stock is very easy to make.
21. Bang Bang Shrimp Pasta Instant Pot Recipe
If you're like most of the rest of us and you've fallen in love with bang bang sauce and pasta, you're going to be head over heels in love with this Instant Pot pasta recipe.
The bang bang sauce in this pasta recipe is made with Thai sweet chili sauce, fresh lime juice, mayonnaise, garlic, black pepper, and sriracha hot sauce.
22. Instant Pot Cajun Pepper Shrimp
We love basically any recipe that's made with Cajun seasoning, so you know this is delicious!
This recipe calls for any type of Cajun seasoning or Creole seasoning, jalapeno peppers, tomato sauce, rice, garlic, butter, Louisiana hot sauce, chicken broth, and fresh lemon juice.
23. Instant Pot Garlic Shrimp Recipe
Garlic and butter were born for each other, and when you pair these two classic ingredients with fresh shrimp or frozen shrimp, you have a guaranteed favorite.
You need a whopping six cloves of garlic for this Instant Pot shrimp recipe. Other ingredients include chicken broth, red pepper flakes, black pepper, Kosher salt (or sea salt), grated parmesan cheese, and dried parsley.
Serve your garlic butter shrimp with Instant Pot rice. We love basmati rice or brown rice. You can also serve this shrimp dish with pasta.
24. Instant Pot Sweet and Sour Shrimp
One of the best things about pressure cooking is that you can make some of your favorite recipes in a fraction of the time it would take to cook them in traditional ways.
This sweet and sour shrimp is made with ketchup, honey, soy sauce, bell pepper, onion, and frozen shrimp. Of course, you can also use fresh shrimp.
25. Instant Pot Creole Shrimp and Sausage
This list is full of delicious New Orleans flavor, and we can't get enough of it.
For this recipe, you need chicken broth, smoked sausage, mushrooms, Cajun seasoning (or Creole seasoning), garlic cloves, fire roasted tomatoes, parmesan cheese, and bell pepper.
26. Instant Pot Shrimp and Broccoli
Who can resist Instant Pot shrimp and broccoli?
Not only is this recipe delicious and super easy, but it's also a nutritious dish.
For cooking this shrimp and broccoli recipe, you need soy sauce, garlic cloves, grated fresh ginger, brown sugar, oyster sauce, rice wine vinegar, sriracha sauce, green onion, and sesame seeds.
27. Instant Pot Garlic Shrimp Pasta
Shrimp and garlic were born for each other, I think. It sure seems that way, anyhow!
For this easy pressure cooker pasta recipe, you need vegetable broth, minced garlic, butter, heavy cream, parmesan cheese, fresh lemon juice, and linguine pasta.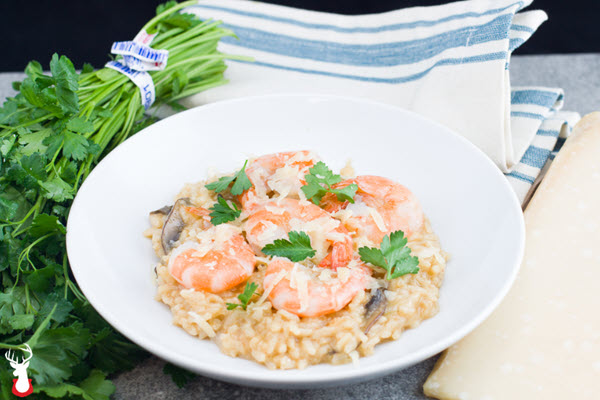 28. Instant Pot Mushroom Risotto Shrimp
Nothing beats a creamy mushroom risotto in the pressure cooker, but adding some jumbo shrimp to this classic dish sure does make it shine!
For this recipe, you need Arborio rice, fresh mushrooms, white wine, Parmigiano Reggiano cheese, smoked paprika, garlic, olive oil, fresh lemon juice, and butter.
29. Instant Pot Curried Rice with Shrimp
Are you wanting to add some spice to your boring dinners? Well, this recipe will do the trick!
For this recipe, cook the shrimp in the shells. Ingredients include garlic, yellow curry powder, and white onion.
30. Instant Pot Vodka Sauce Shrimp Pasta
I'll never forget the first time I tried vodka sauce. I was transformed! It never occurred to me that creamy marinara sauce could be such a delightful thing.
You only need half a cup of vodka for this vodka sauce recipe. Other ingredients include Parmigiano Reggiano, yellow onion, and red pepper flakes.
31. Instant Pot Indian Butter Shrimp Recipe
If you love complex flavors but easy recipes, this Instant Pot butter shrimp recipe is just what you've been looking for.
The spices in this recipe include cumin, sweet paprika, garam masala, grated ginger, garlic cloves, and red pepper flakes.
Other yummy ingredients are grated lime zest, fresh cilantro, butter, shallots, and yogurt.
Do you want step-by-step instructions for making Instant Pot shrimp recipes? This video shows you how to make the perfect Instant Pot shrimp boil with cajun seasoning.
Image: Polina Tankilevitch, Pexels
This recipe may contain affiliate links, which means that I may receive a commission if you make a purchase using these links. As an Amazon Associate, I earn a small amount of money from qualifying purchases.
Be sure to review this recipe, and say hello to us on Facebook and Instagram.Thanks for stopping by!