Are you ready for some delicious and healthy Weight Watchers soup recipes? There's nothing more satisfying that a steaming bowl of hot soup. It's pure comfort food!
Weight Watchers soups recipes are filling and nutritious. From hearty black bean soup to creamy clam chowder, there's something on this list for everyone.
It seems like every January, I start seeing tons of advertisements for weight loss programs, including ads for Weight Watchers (now known as WW). It's almost like the companies that help people with weight loss know that we're all starting diets as New Year's resolutions, eh?
Well, I'm a Weight Watchers subscriber year-round and have been for years. I believe in the program and have lost plenty of weight over the years. I'm not always counting my points, but anytime I want to take off some pounds, WW works for me.
What I love about Weight Watchers is that you don't have to starve yourself to lose weight. If you follow the program and count your points, you WILL lose. They throw a lot of research and science into figuring out what works, and they're successful.
Blown through your points for the day? No problem! Make a Zero Point soup and you've got both dinner and lunch the next day.
Craving Mexican food? Make taco soup or chicken tortilla soup. The possibilities are endless!
Are you ready to start cooking? Let's dive in and learn how to make some healthy Weight Watchers soup.
1. Weight Watchers Cabbage Soup Recipe (Zero Points!)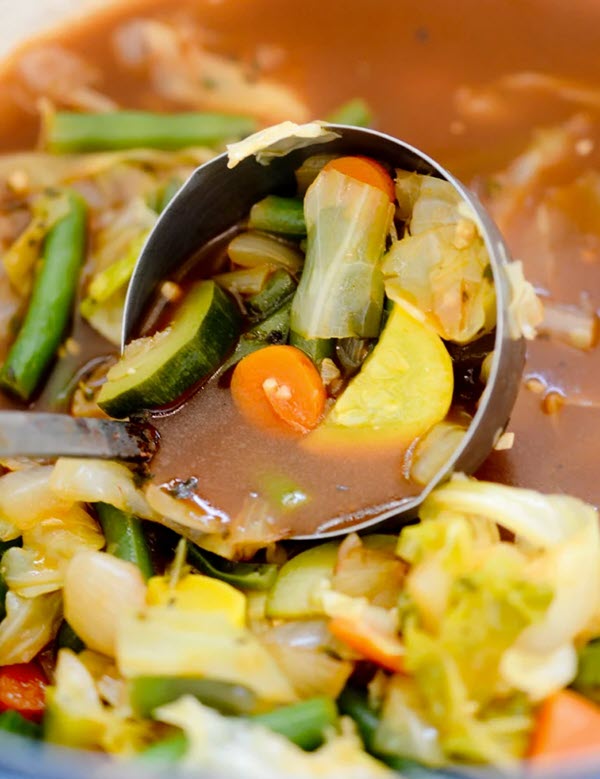 Source: recipe-diaries.com
Remember the old cabbage soup diet? You ate nothing but cabbage soup for days and would supposedly lose weight. Well, I don't support that diet, although it does give the body a lot of nutrients.
It's much better to enjoy this delicious zero point cabbage soup for a hearty and easy weeknight meal! With green beans, carrots, and zucchini, this veggie soup is the perfect light WW vegetable soup. Use tomato paste, canned tomato soup, or tomato sauce for this WW soup recipe.
2. Weight Watchers Zero Point Soup
Source: mytastycurry.com
This Weight Watchers zero point soup recipe is similar to the WW cabbage soup, but it has some extra zing thanks to Thai ginger and red chilli.
You can make this soup vegan by using vegetable broth instead of beef broth. This is also one of the soup and stew recipes you can make in the Instant Pot or another pressure cooker. Let this delicious soup simmer over medium heat and you have a feast on your hands. Since this is a zero points WW soup, treat yourself to a slice of crusty bread to go along with it.
3. Weight Watchers Taco Soup
Source: allshecooks.com
Taco soup is one of my love languages because I LOVE Mexican food. A lot of Mexican recipes are loaded with fat and calories, but this soup gives you all of the Tex-Mex flavors with none of the guilt.
This Weight Watchers taco soup is made with lean ground turkey, and it's loaded with kidney beans, pinto beans, corn, and diced tomatoes.
4. Spaghetti and Meatball Soup
Source: skinnytaste.com
Does spaghetti and meatball soup seem like an odd addition to a list of Weight Watchers soups and stews? Well, here's the skinny: This recipe can be made with lower-calorie ingredients.
Use lean ground turkey to make the meatballs, and whole wheat spaghetti so your pasta is a little healthier.
5. Weight Watchers Cauliflower Soup
Source: amamablessed.com
Is there anything that cauliflower can't do? Not only is this soup creamy and delicious, but it also adds lots of nutrition to your daily meal plan.
You need a LOT of cauliflower to make this soup, and you can use light butter to cut out even more points.
6. Jerk Turkey Slow Cooker Soup
Source: slenderberry.com
Jamaican jerk heck yeah! This is one of our favorite fall stew recipes and it calls for cut-up turkey breast, but of course, you can use chicken breast if you don't have turkey handy.
The fire-roasted tomatoes with green chilis give you plenty of kick, and much flavor comes from the ground allspice, cayenne pepper, and ground ginger. Serve with freshly squeezed lime juice and minced cilantro. The Instant Pot or Crock Pot makes the turkey super tender.
7. Weight Watchers Chicken Noodle Soup
Source: skinnykitchen.com
For this recipe, you can cook boneless skinless chicken breasts, or you can use rotisserie chicken. This soup is loaded with vegetables, including carrots, celery, and onions.
For seasoning, all you need is dried thyme, sea salt, and black pepper.
8. Weight Watchers Tortellini Soup
Source: peanutblossom.com
How about some Italian flavor? For this WW soup, you need Greek seasoning, which gives the soup a wonderful flavor. The recipe calls for Buitoni three-cheese tortellini, but you can use whatever tortellini you like.
This Weight Watchers soup recipe is loaded with vegetables, including onion, carrots, celery, garlic, baby spinach leaves, and diced tomatoes.
9. Weight Watchers Lasagna Soup
Source: recipe-diaries.com
Wait, you can have lasagna on Weight Watchers? Yep, if it's in the form of soup, you sure can. Lasagna soup deserves a spot on a list of award winning soup recipes!
The meat in this recipe is ground turkey Italian sausage, but if you have trouble finding it, you can use regular ground turkey. Use fat-free shredded mozzarella cheese, and enjoy your guilt-free treat.
10. Toasted Quinoa Soup
Source: savorysaver.com
I love quinoa in soup, and I frequently buy Amy's Organic Quinoa and Kale soup. It's soooooo yummy. Well, you can use this recipe to make your own quinoa soup at home.
Quinoa is loaded with protein and other nutrients, and this soup has tons of veggies. Think potatoes, celery, carrots, bell pepper, onion, garlic, and zucchini. A dash of red pepper flakes adds a wonderful kick.
11. Weight Watchers Hamburger Soup
Source: nestinglane.com
As a young bride a zillion years ago, I had a $50 a week grocery budget. Can you even imagine buying a week's worth of groceries for $50? But I did it, and one of my staple recipes was this delicious hamburger soup. Make this soup with ground turkey with a little bit of olive oil.
Add whatever type of veggies you have on hand to this soup. Green beans, tomatoes, bell pepper, carrots, corn, and more make this soup a winner.
12. Slow Cooker Minestrone Soup
Source: thechunkychef.com
Are you ready for more delicious Italian soup? Minestrone is one of Italy's most famous soups, and for good reason. It's not only delicious but also super hearty and healthy.
Minestrone is loaded with veggies, including carrots, celery, onion, tomatoes, minced garlic, zucchini, spinach, and green beans. You also get all of those high-protein beans such as red kidney beans and cannellini beans. Sprinkle with some parmesan cheese and you've got the perfect comfort food meal.
13. Weight Watchers Butternut Squash Soup
Source: dwardcooks.com
Who can resist creamy, low-point, delicious WW butternut squash soup? This tasty soup is so much more than delicious. It's also loaded with vital nutrients. You need an immersion blender to make this soup, so if you don't have one, buy one (you'll use it for soooooooo many things). I bought a cheap one on Amazon a while back, and one of the pieces broke off after just a few months of use (!!!!), so I broke down in December and bought a KitchenAid immersion blender.
You can make this butternut squash soup with canned butternut squash, but it's also super easy to make with fresh squash. We love the flavor the nutmeg brings to this WW soup! The creaminess comes from non-fat Greek yogurt.
14. Lemon Chicken and Greek Orzo Soup
Source: themediterraneandish.com
We love this website (The Mediterranean Dish) because it gives us so many healthy recipes that are easy to make. This chicken and orzo soup is made with ingredients you probably already have in your pantry, and it's loaded with veggies such as frozen peas, green onions, garlic cloves, onion, celery, and carrot.
The robust flavor of this soup comes from red pepper flakes, lemon zest and freshly squeezed lemon juice, and oregano. This soup gets its gorgeous color from turmeric, which is so good for you.
15. Weight Watchers Potato Soup (Crock Pot Recipe)
Source: simple-nourished-living.com
Nothing is more comforting than a hearty bowl of WW potato soup. While potatoes aren't zero points on WW anymore, they're still a healthy option. Best of all, this recipe is loaded with tons of other veggies, not just potatoes. Think onions, carrots, and celery. Yum!
The secret to this delicious potato soup is the chicken bouillon cubes. However, I use Knorr's granulated chicken bouillon for my potato soup. It adds tons of flavor. You can use fat-free evaporated milk or fat-free half and half to make this soup super creamy. Top with shredded low-fat cheddar cheese, green onions, and turkey bacon bits.
16. Weight Watchers Vegetable Soup
Source: spendwithpennies.com
This recipe is similar to the WW cabbage soup recipe (soups Weight Watchers), but it's different enough to deserve its own entry. For this WW vegetable soup, you need carrots, onion, garlic, cabbage, zucchini, green beans, broccoli or cauliflower, and canned diced tomatoes.
The spices in this soup are what make it so wonderful. You use thyme, bay leaves, basil, and freshly ground black pepper. A pinch of sea salt will finish it off.
17. Barley Vegetable Soup
Source: twokooksinthekitchen.com
Want to add a healthy grain to your diet? Don't sleep on barley! This is a vegan soup that adds a lot of healthy veggies to your family's meal rotation.
With cartos, butternut squash, onion, celery, baby spinach, and white kidney beans, what's not to love? The spices are dried thyme, basil, and onion powder.
18. Green Pea Soup with Dill Yogurt Cream Sauce
Source: weightwatchers.com
Do you love green peas? How about Yukon gold potatoes? And want me to throw in some leeks and garlic? This soup is a flavor-lovers dream come true!
The recipe calls for chicken broth, but you can easily make it a vegetarian soup if you substitute veggie broth. The fat-free yogurt gives you all the creamy love you need. Top the soup with diced ripe tomatoes.
19. Weight Watchers Black Bean Soup
Source: rachelshealthyplate.com
Beans are so filling and satisfying, and this WW black bean soup recipe feels like cheating! We love how easy it is, and the Rotel tomatoes make this soup nice and spicy.
For spices, we use ground cumin, onion powder, chili powder, and crushed red pepper. You can cook this black bean soup in the Instant Pot.
20. WW Chicken, Mushroom, and Wild Rice Soup
Source: thepounddropper.com
My household loves chicken and wild rice soup, and the mushrooms add all kinds of heartiness and goodness. This recipe can be made with rotisserie chicken (so easy!) or chicken breasts you cook in your slow cooker or Instant Pot.
This recipe calls for Uncle Ben's Wild Rice blend, but I highly recommend using 100% wild rice. I buy Thousand Lakes Minnesota Grown Wild Rice on Amazon, and it's not cheap, but it's soooooo worth it. You can use almond flour instead of all-purpose flour for this recipe.
21. Quinoa, Kale, and Lentil Soup
Source: pulses.org
I first had this soup when I ordered Amy's Organic Kale, Quinoa, and Red Lentil soup. This isn't a cheap soup, but wow, is it ever nice to have on hand when you need a quick WW soup for dinner?
This is a vegan Weight Watchers recipe, and it's loaded with veggies, including celery, carrots, tomatoes, red lentils, kale, and spinach. If you want it to have meat, feel free to add some chicken.
Watch this video to learn how to make Weight Watchers Zero Point Cabbage Soup. Be sure to scroll down for the recipe!
Weight Watchers Zero Point Cabbage Soup
Do you love a hearty cabbage soup recipe? This one will fill you up, and it has zero points!
Equipment
Ingredients
1

Tbsp.

tomato paste

2

cloves

garlic

minced

2

cups

cabbage

chopped

1/2

cup

carrot

chopped

1/2

cup

yellow or white onion

chopped

1/2

cup

yellow squash or zucchini

chopped

1/2

cup

fresh green beans

1/2

tsp.

oregano

1/2

tsp.

basil

1/4

tsp.

sea salt

1/4

tsp.

black pepper
Instructions
Spray your soup pot with nonstick olive oil spray.

Sautee the garlic, carrots, and onion for 5 minutes.

Add the tomato paste, beef broth, green beans, cabbage, oregano, basil, black pepper, and sea salt to the pot. Don't add the squash yet.

Simmer the soup for approximately 5-10 minutes. Your soup is almost done when all of the veggies are tender.

Add the squash or zucchini and cook for 5 more minutes.
Video
Notes
The Cabbage Soup Diet has been around for a long time, and while we do NOT advocate doing that diet, this Weight Watchers Zero Point Cabbage Soup sure does make a hearty and filling weeknight meal. 
Nutrition
Serving:
0.5
cup
Calories:
25
kcal
Carbohydrates:
4
g
Protein:
2
g
Fat:
0.1
g
Saturated Fat:
0.03
g
Polyunsaturated Fat:
0.04
g
Monounsaturated Fat:
0.01
g
Sodium:
250
mg
Potassium:
313
mg
Fiber:
1
g
Sugar:
2
g
Vitamin A:
1467
IU
Vitamin C:
11
mg
Calcium:
24
mg
Iron:
0.4
mg
This recipe may contain affiliate links, which means that I may receive a commission if you make a purchase using these links. As an Amazon Associate, I earn a small amount of money from qualifying purchases.