Healthy cooking and eating organically is one of the best things you can do for your health, but did you know that if you aren't using a non toxic cookware set, you may unwittingly sabotage your best efforts? The fact is, some pots and pans have toxic chemicals that can leach into your food.
The worst offenders come in the form of nonstick pots and pans. Typically, manufacturers make this type of cookware from poly and perfluoroalkyl substances, known as PFAS for short. They release perfluorooctanoic acid, which turns into a carcinogenic chemical when it's heated.
And this toxic substance doesn't only affect humans. People have documented numerous accounts of birds dying when exposed. For example, when researchers moved 2,400 chickens to a new facility at the University of Columbia, Missouri, half of them died within 72 hours when exposed to lightbulbs coated with the chemical.
Why Should Be Contaminant-Free in Organic
Now that you understand the importance of eating organic food, is there any doubt that you should also use cookware that doesn't bring toxic chemicals to the mix?
According to the American Cancer Society and the EPA, PFOS and PFOA are linked to the following health issues.
Reproductive harm

Developmental harm

Kidney and liver damage

Increased cholesterol

Immune suppression

Cancer (PFOA)

Low infant birth weights

Thyroid disruption (PFOS)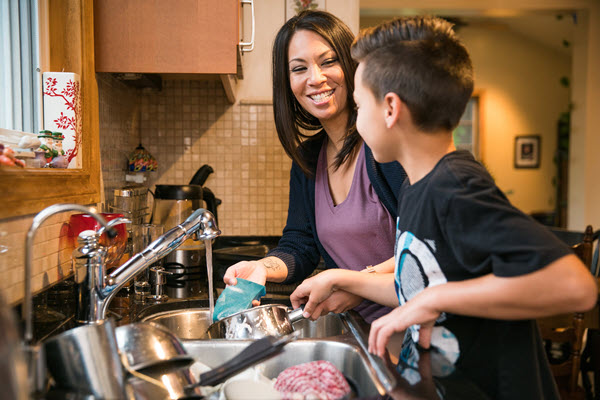 By using those made from natural materials and substances developed to safely eliminate toxins in food preparation, you will ensure that your healthy habits go from seed to table.
How We Reviewed the
Because we feel strongly about the issue, we searched far and wide for the best pots and pans to use in organic cooking. We not only reviewed the most well-known and beloved organic cookware but have also included some on our list that other reviewers don't cover.
Just because a manufacturer of pots and pans claims to produce a healthy product doesn't mean it's true. We've not only looked for cookware for organic cooking, but we've also scoured customer reviews to see what people have to say about them.
The for Organic
Here is what we believe are the best non toxic cookware and safest cookware on the market. These best healthy cookware options are not listed in any particular order.
1. Caraway Cookware Set
Because of its ceramic-coated non-stick surface, Caraway cookware is widely considered to be some of the best ceramic non stick pans.
For the best ceramic cookware, you can buy Caraway cookware at CarawayHome or on Amazon.
Pros of Caraway :
PTFE-free non toxic coating

Free of PFOA, cadmium, and lead

Durable diamond-reinforced coating

Includes lid and storage solution

Non-stick surface

Available in a wide array of colors

Broiler and oven-safe to 600 degrees Fahrenheit
2. Zwilling Non Toxic Stainless Steel Cookware
These are made by Zwilling J.A. Henckels, who is well-known for quality cookware and cutlery.
At 3mm-thick with an aluminum core and clad with layers of stainless steel, the Zwilling cookware is known for its strength.
The titanium cookware uses a patented ceramic nonstick surface, and the manufacturer claims this surface releases food instantly. They also say that cleaning these is a breeze.
You can find the 10-piece set of pots and pans at Macy's, Williams and Sonoma, and Amazon.
Most of the reviews for Zwilling green pan cookware are great, but some reviewers say that the nonstick surface or non stick coating begins to chip, crack, and stick after only a year. The best non stick pan should not crack or peel.
Pros of Zwilling :
Includes steamer insert

Thick aluminum core for solid heat conduction

Stay-cool loop handles

Dripless pouring with flared rim

Tempered glass lid

Oven safe to 500 degrees Fahrenheit

Dishwasher safe
3. GreenPan SearSmart Non Toxic Pots and Pans
You can purchase Green pan pots and pans sets or individually, but we're reviewing the 11-piece set.
You can find the Greenpan line on Amazon. The reviews are overwhelmingly good, with a 5.0 out of 5-star ratings. Customers leaving the reviews say these are easy to clean and are truly nonstick.
Pros of Greenpan SearSmart

ceramic coated

:
Thermolon non-toxic coating

Durable glass lids

Safe for use with a
Anodized aluminum core for even and rapid heating

Safe for all stovetops EXCEPT induction stovetops

Full-efficiency body

Stay-cool handles

Lifetime warranty
4. Cuisinart Green Gourmet Non Toxic Cookware
Cuisinart is well known for its kitchen appliances and cookware, and it now offers a green version of its pots and pans.
You can find the Cuisinart brand cookware at the Cuisinart website, Amazon, or Home Depot.
These cookware sets are pricey, but reviewers give them a solid 4.2 out of 5 stars. While most reviewers say they love the pans, there are quite a few who say the nonstick surface eventually wears off.
Pros of Cuisinart Green Gourmet :
Includes steamer insert

Hard-anodized aluminum construction

PFOA and PTFE free non stick pans

Riveted stay-cool handles made from recycled

Rivet loop handles
5. Scanpan Pots and Pans
This Danish manufacturer makes a Scanpan fry pan with a titanium coating that is toxin-free and scratch-resistant.
Scanpan cookware is made from 100-percent recycled cast aluminum, which gives it superior heat distribution and retention.
You can find the Scapan eight-piece classic set at Amazon, Bed, Bath, and Beyond, and Williams Sonoma. Most of the reviews on this product are wonderful.
Scanpan cookware averages 4.5 out of 5 stars. However, some buyers say the pots and pans began sticking after a while.
Pros of

Scanpan

:
Oven-safe to 500 degrees Fahrenheit

Cooks with very little or no oil

Limited lifetime warranty

Easy to clean

Dishwasher safe

Can use with metal utensils
6. Ozeri Stone Earth Non Toxic Cookware
These heavy metal pots and pans don't come in a set, but they get such good reviews, we included these nonstick coating pan options anyway.
The manufacturer of Ozeri Stone Earth cookware uses a stone-derived coating that originates from Germany and is entirely toxin-free.
You will find Stone Earth at Amazon, Walmart, and Home Depot.
Ozeri Stone Earth cookware gets a healthy 4.5 out of 5 stars on Amazon. One issue that people have is that the metal lid will scratch the nonstick surface if you're not careful.
Pros of Ozeri Stone Earth :
German stone-derived coating

100% free of GenX, APEO, PFOS, PFOA, NMP, NEP, and PFSB

Layered aluminum core for excellent heat conduction

Sustains heat

Scratch-resistant coating

Safe for induction stovetops

Silicone-coated handle

Tempered glass lid with heat-resistant knob and steam-release vent
7. Greenlife Non Toxic Cookware
Greenlife pots and pans use a ceramic nonstick coating called Thermolon, which is toxin-free no matter how high the heat.
This non toxic cookware has an aluminum reinforced core that guarantees fast and even heat distribution.
You will find Greenlife products at Amazon, Walmart, and Target.
We found mixed reviews for this product. Amazon reviews have a total score of 4.0 out of 5 stars, and while some people are very happy with the product, others are not.
Some reviewers say that the pots and pans scratch too easily. And one woman claims that when she picked up a pot of boiling water, the handle came off and burned her.
Pros of GreenLife Sof Grip pots and pans:
Includes nylon utensil set

Made from sand

Free of PFOA, PFAS, cadmium, and lead

Soft Grip Bakelite handles

Dishwasher safe

Stay-cool handles

Durable tight-fitting glass lids

Safe for all stovetops except induction stovetops
8. Xtrema Ceramic Cookware Set
If you want pots and pans that even professional chefs would be envious of, Xtrema may be the right set for you.
Xtrema Cookware 11-piece ceramic cookware set is 100 percent pure ceramic and will withstand extreme temperatures.
This healthy ceramic cookware features a ceramic coating glaze over the cookware that will make clean-up super easy.
Customer reviews give the Xtrema ceramic cookware set a stellar 5.0 out of 5 stars.
One reviewer says she immediately noticed that her food no longer has the slight metal taste that it did when she cooked in stainless steel pots and pans, so a ceramic coating may be the way to go.
Pros of Xtrema :
Oven-safe

Microwave-safe

Works on all stovetops (not induction)

Silicone handle sleeves

10-year warranty for thermal shock
9. FINEX Cast Iron Pots and Pans
Many reviews of pots and pans for organic cooking don't list cast iron cookware. That's because they say the pots and pans release iron into food.
While it's true that iron can be absorbed from cast iron cookware, the amount is negligible, and there are two tricks that will make it even less so.
First, if you season your cast iron pan well, the oxidized oil will form a barrier between the iron and your food. This will make it unlikely that iron will leach into it.
Secondly, don't cook acidic food – such as tomatoes or citrus – in your cast iron pan. The acidity tends to absorb the iron.
The FINEX grill, sear, and sauce set is everything you need in a cast iron cookware set. It features a unique hand-crafted octagonal shape design. The set comes preseasoned with flaxseed oil.
You will find FINEX cast iron cookware at Finex.com, Williams and Sonoma, and Amazon. FINEX cast iron pots and pans earn 5.0 out of 5 stars.
Pros of FINEX

skillet

:
Works on all stovetops, including induction stovetops and gas stovetops

Can use it on the grill or for open flame

Stay-col handles

Pre-seasoned and ready for use out of the box
10. Demeyere
The Demeyere cookware company is a family-run business out of Belgium. For more than 100 years, Demeyere has been creating stainless steel cookware with an electrochemical surface treatment called Silvinox technology.
You can buy Demeyere cookware at Zwilling, Williams Sonoma, and Amazon.
Pros of Demeyere pots and pans:
Dishwasher safe

Retains its silver-white color and shine for years

Silvinox technology purifies and enriches the 's surface

Broiler and oven safe up to 500 degrees Fahrenheit

5-ply construction for amazing heat retention and conduction

Compatible with all cooktops, including halogen cooktops, ceramic cooktops, and induction cooktops
11. Made In Cookware
Are you looking for stainless steel pots and pans or carbon steel cookware? The Made In Cookware brand may be perfect for your organic cooking.
Made In Cookware is a Michelin Star Chef-Approved brand that is extremely durable and has a high heat capacity.
You can buy Made In stainless steel and Made In carbon steel cookware on their website. You can also find Made In Cookware on Amazon.
Pros of Made In :
Five layers with four different metals

Stay-cool handles with solid rivets

Oven safe for up to 800 degrees Fahrenheit
12. Cuisinart Stainless Steel Cookware Set
This stainless steel cookware set by Cuisinart is one of the most highly reviewed sets of stainless steel pots and pans on Amazon.
Cuisinart's stainless steel cookware is safe to put in the oven up to 500 degrees.
Pros of

Cuisinart

:
Dishwasher safe

Safe for all stovetops

Non-stick

Stay-cook handles

Tapered drip-free rims

Tempered glass tight-sealing lids

Lifetime warranty
13. Le Creuset Enameled Cast Iron Cookware
We are in love with the Le Creuset cooking pot. Besides being highly functional, Le Creuset pots are also gorgeous in the kitchen.
Pros of :
Available in an array of colors

Excellent heat retention and distribution

Oven-safe to 500 degrees

Dishwasher safe

Safe to use with a
knob that is safe in the oven

Tight-fitting lids that return moisture back to the food and circulate steam
You can buy Le Creuset cookware at the Le Creuset website, Bed Bath and Beyond, Williams Sonoma, or Amazon.
FAQ
Below, you will find answers to some of the most frequently asked questions about the best healthy cookware, the safest cookware material, and more.
Is it safe to cook with ?
Research on cooking with aluminum cookware is inconclusive at this time. However, public health experts are concerned about aluminum leaching into your food when it comes into contact with foods such as vinegar and tomatoes because these food are acidic.
Is non-stick harmful to health?
Many non-stick cookware brands use materials that include PFAS, PFOS, PFOA, and GenX. All of these chemicals are harmful for human consumption.
Additionally, these materials cause environmental contamination.
When choosing non-stick cookware, be sure you look for PFOA and PTFE free non stick pans
What pots and pans are non toxic?
For PFOA and PTFE free non stick pans, you can rely on any of these for the best cookware material.
Ceramic coated

(

ceramic non stick pans

)

skillet

and other
Pure

ceramic non stick pans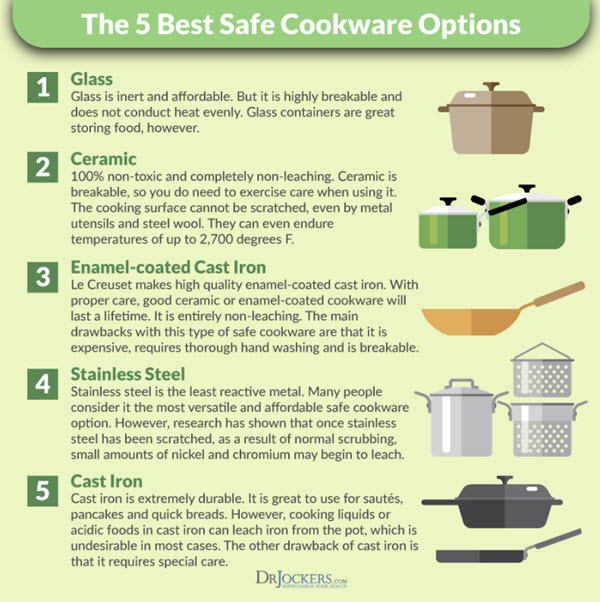 Is non toxic?
Stainless steel healthy cookware is considered to be healthy non toxic cookware. Nevertheless, some health experts point out that people who have a sensitivity to nickel may experience side effects if acidic foods are cooked in stainless steel cookware.
When buying stainless steel pots and pans, be sure you choose brands such as Demeyere cookware that guarantee food grade stainless steel.
What are the safest pots and pans for ?
All stainless steel pots and pans are made with cookware materials that are PFOA and PTFE free. We recommend food-grade stainless steel that is at least grade 316.
What is

the

for your health?
Look for PFOA and PTFE free non stick pans. The best nonstick pan for healthy cooking will have their product packaging labeled.
What is the

best

?
Caraway Cookware is widely regarded by chefs and organic cooks to be the best nonstick cookware and healthiest cookware.
Another durable nonstick cookware option is Greenpan's SearSmart Collection. Keep in mind that you should avoid a nonstick cookware set that has Teflon.
What does not have PFS?
For PFOA and PTFE free non stick pans, you can use any of the non toxic pots and pans on our list.
Other safe cookware options include Lodge Cast Iron cookware or glass cookware. Lodge Cast Iron will last a lifetime and beyond.
While copper cookware doesn't have harmful chemicals, it's not considered to be the safest cookware. Copper cookware isn't ideal for cooking acidic foods.
Are pure and

ceramic non stick pans

safe?
For healthy organic cooking, ceramic cookware is perhaps the best cookware material. Ceramic cookware is made without harmful chemicals such as PFAS. Caraway Cookware and GreenPan cookware are two of the best ceramic non stick pans.
Is Ceramic or Teflon better?
Ceramic cookware is safer to use than Teflon cookware, which is also known as PTFE. Teflon can result in harmful off-gassing that sometimes leads to polymer fume fever, which gives people flu-like symptoms.
The fumes from Teflon are potent enough that they kill pet birds and hospitalize human beings.
Which Is Right for You?
The cookware you use in your kitchen is a personal choice. With this list, you'll have the ability to select the right one for you.
Have you used any of the products that made our list? We'd love to hear about your experience below. And if we missed any green pots and pans you think we should know about, we would love to hear about those, too! Just leave us a note in the comments section.
If you want to learn more about the dangers of Teflon and other nonstick chemicals, there is a great documentary on the subject. Watch the video below to learn more about the dangers of materials like Teflon and to learn more about why cooking with healthy cookware and non toxic pots and pans is a good idea.
This recipe may contain affiliate links, which means that I may receive a commission if you make a purchase using these links. As an Amazon Associate, I earn a small amount of money from qualifying purchases.
Be sure to review this recipe, and say hello to us on Facebook and Instagram.Thanks for stopping by!