Alfredo sauce would land us in hell if food could be a sin, and shrimp Alfredo sauce made with heavy cream, parmesan cheese, and fettuccine pasta with Alfredo sauce is amazing.
What is Alfredo sauce? Alfredo sauce is creamy, rich, and delicious. It's out of this world.
Add shrimp to the sauce mixture and hot damn, you're in foodie heaven with a delicious shrimp Alfredo pasta recipe.
Oh, wait, I said hell, right? This is getting kind of weird, so I'll move on, OK? Or we could keep talking about heaven or hell, even though that has absolutely nothing to do with shrimp Alfredo pasta.
Is Shrimp Alfredo Hard To Make?
Shrimp Alfredo pasta is easy peasy to make.
Ladies or gentlemen, if you want to make your sweet boo something that looks and tastes like fancy restaurant food, you've come to the right place. And shrimp Alfredo pasta is filling and it will make your stomach happy.
Yes, stomachs can be happy, especially when shrimp, heavy cream, parmesan cheese, and pasta are involved. I might have made that up, though.
It will kind of ruin the romantic mood, though, when your partner/date asks for a wheelbarrow to get him or her to the next room from the dinner table after devouring the shrimp Alfredo pasta and this creamy Alfredo sauce.
Yes, I've been on many weird dates. How did you know? I have stories! So many stories. Too many bad date stories:(
And it's not just for couples. Kids love this dish, too. I didn't mean to forget about the kids. What kind of person am I?! <Hangs head in shame>
The best part is the traditional white creamy sauce. There are different kinds of Alfredo sauce but the white sauce is the most basic and traditional.
Who doesn't love Alfredo sauce with pasta? And it's so much better than the kind you can buy at the grocery store. Even better, it's super easy to make.
How Much Time Does It Take To Make Easy Shrimp Alfredo?
It just takes 15 minutes of prep time, and that includes shelling and deveining the shrimp. 
After you make this once or twice, you won't even need to look at the shrimp Alfredo pasta recipe. It's just that easy to make. And it takes only 20 minutes to cook, so that's 35 minutes total.
My grandmother was an amazing cook. My grandparents were farmers, so they grew their own veggies. Talk about making it from scratch! And of course, back then (and now, some of us are guilty of that, too) they didn't measure the ingredients.
It was always a "dash" of one seasoning, a "splash" of another, and a pinch of another. If only she had written her recipes down, the world would be a better place. OK, well my world would be anyway.
Are There A Lot Of Ingredients In Shrimp Alfredo?
This shrimp Alfredo recipe with creamy Alfredo sauce doesn't require a lot of ingredients. In fact, you probably have a lot of them in your kitchen, especially pasta.
I noticed that a lot of food bloggers like to keep the tail on the shrimp for aesthetic reasons, I assume. But I take them off. It's not like we're going to eat the tails. Yikes. I do know that sometimes they're left on to enhance the flavor of the dish. It's really up to you.
This easy shrimp Alfredo pasta dish is very rich, so it doesn't need more flavor, in my humble but always right opinion. Always right. Always humble. That's me, you guys. Sure.
You can't go to a restaurant to pick up some fettuccine Alfredo pasta or another takeout with pasta and Alfredo sauce in 15 minutes.
I keep this fettuccine Alfredo recipe on my rotation. We have it about every two weeks. We eat a lot of shrimp (and pasta) around here, but there are other pasta dishes that we'll get into at a later time. I added some Slap Ya Mama Cajun seasoning to give it a kick. One of my favorites is shrimp and grits. <drool> 
I put on some pandemic pounds, but I find that if I only eat a smaller amount of a fettuccine Alfredo recipe – like, not the massive American-sized dishes, then keeping the weight off isn't a problem. 
I cook dishes like fettuccine Alfredo pasta and other dishes with homemade Alfredo sauce a lot, and I lost three pounds last week.
Can I Make Substitutions?
Notes: You can substitute chicken for this creamy shrimp Alfredo pasta and have chicken Alfredo pasta, too.
There is a lot you can do with Alfredo sauce and a box of pasta. Serve this easy shrimp Alfredo pasta recipe up with some toasted French bread to dip in the sauce, and you will have a meal that is pure comfort food.
And shrimp Alfredo pasta is the perfect dish to cook for guests. They'll think that you worked harder in the kitchen than you actually did. Ssshh! I'm not telling!
I usually serve shrimp fettuccine Alfredo with cooked shrimp with a nice salad and parmesan cheese. Some garlic cheese bread is great, too. That's all you need. And it's filling. You will not walk away hungry.
Cream Cheese? Yes, Please! (if you want)
We've also seen Alfredo pasta recipes with cream cheese sauce. If you love cream cheese in your Alfredo sauce, feel free to use it.
Love a tomato sauce Alfredo sauce? You can add tomato paste or tomato sauce to your Alfredo sauce, too. We love parmesan cheese with this main dish.
For garnish, we love sprinkling our homemade Alfredo sauce dishes with fresh parsley. Fresh parsley adds color and flavor. Chopped parsley is great is so many dishes. Other spices you can use include Italian seasoning, cayenne pepper, black pepper, salt, and red pepper flakes.
For the garlic, you can use fresh garlic cloves, minced garlic that comes in a jar, or even garlic powder.
Want to use frozen shrimp? No problem! Just thaw the frozen shrimp first.
Bacon in Shrimp Alfredo
You can add bacon to this recipe. Bacon is always good.
You can make Cajun chicken Alfredo in the slow cooker or make Instant Pot shrimp Alfredo using Cajun seasoning and parmesan cheese. We love Cajun shrimp Alfredo. And tortellini Alfredo with parmesan cheese is always delicious. But we'll get to those on another day.
Can You Freeze Shrimp Alfredo?
This is the best parmesan cheese and fettuccine with an Alfredo recipe ever. There, I said it.
You can freeze this shrimp Alfredo recipe with fettuccine noodles (with the parmesan cheese and heavy cream) in an airtight container for up to three months.
If you're like me, you love leftovers. It's like having takeout food in your freezer from a good restaurant. Warm that sucker up, add some more heavy cream if it's dry, and you have a nice dinner just like that.
Conover's Shrimp Alfredo Pasta Recipe
Cook time: 20 minutes. Serves 4.
Let's do this:
Toss your pasta into a boiling pot of water. Cook al dente according to the directions on the package. 
In a separate pan, throw on your butter and some garlic, then the seasoned shrimp. After the shrimp are done, set them aside.  Now add the heavy cream, chicken broth, and garlic for 4 minutes to make your sauce. Toss in the parmesan cheese to your sauce, and let the sauce cook for a minute or so over medium heat. Add the cooked shrimp and the pasta. Mix, and garnish with parsley. 
After a minute of stirring the sauce over medium heat, you're good to go. And this creamy sauce with fettuccine isn't low in saturated fat, but it's going to look delicious. Let's eat!
Here's the Recipe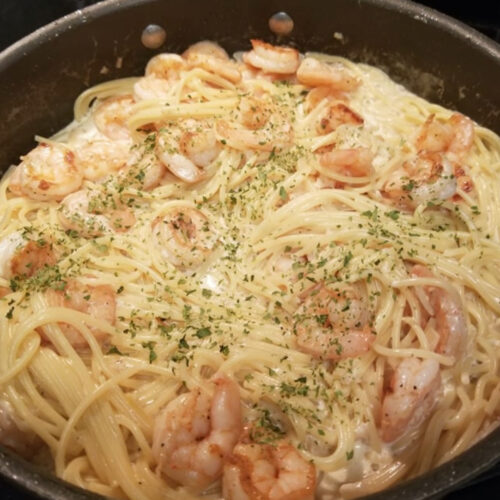 You're Gonna Absolutely Love This Creamy Shrimp Alfredo
It's so easy to make, it's unreal. And it looks like fancy pants restaurant food. Let's eat!
Instructions
Toss your pasta into a boiling pot of water. Cook al dente according to the directions on the package.

Sprinkle your peeled and deveined shrimp with Cajun seasoning.

In a separate pan, throw on your butter and some garlic, then the seasoned shrimp. After the shrimp are done, set them aside.  Now add the heavy cream, chicken broth, and garlic for 4 minutes to make your sauce. Toss in the parmesan cheese to your sauce, and let the sauce cook for a minute or so over medium heat.

Add the cooked shrimp into the pan, then the cooked pasta. Mix well. Add parsley for garnish.
Nutrition
Calories:
855
kcal
Carbohydrates:
56
g
Protein:
47
g
Fat:
50
g
Saturated Fat:
30
g
Polyunsaturated Fat:
3
g
Monounsaturated Fat:
13
g
Trans Fat:
1
g
Cholesterol:
380
mg
Sodium:
830
mg
Potassium:
642
mg
Fiber:
3
g
Sugar:
5
g
Vitamin A:
2638
IU
Vitamin C:
1
mg
Calcium:
537
mg
Iron:
3
mg
Want More Delicious Recipes Like This Shrimp Alfredo Pasta?
This recipe may contain affiliate links, which means that I may receive a commission if you make a purchase using these links. As an Amazon Associate, I earn a small amount of money from qualifying purchases.
Be sure to follow us on Facebook. We'd love to see you there. Also, let us know in the comment section how the chicken Alfredo turned out. Be sure to let us know where you're from, too. And review the dish, please! Since this site is new on the Internet, we want to get to know our regular readers, so be sure to say hello. And let us know what dishes you'd like us to cover next.
I'm mainly into Southern foods, but I can make a lot of other dishes as well. Coquilles St. Jacque is a favorite. I even know how to make that in a less complicated fashion than most recipes call for.
We have so much to cover. Oh, and we'd love to hear how you tweaked this recipe to your liking if you did, in fact, do that. It won't hurt my fee-fees if you tweak it. <cries into pillow>
Again, please follow us on Facebook if you want more recipes like this shrimp Alfredo pasta recipe. We want to grow this site. We'll get there. We've done it before with other sites. We'll do it with this one, too, and we'd like you to be there with us.
That said, we're open to suggestions, so spill the beans. We'd love to get free advice. That was a joke, but it's not far from the truth:) Yes, I know that I tell bad jokes. Sigh.