Who's looking for black bean desserts? We are! Or rather, I was earlier today.
We love black bean brownies at my house, so I got to wondering what other desserts I could make with canned black beans. In my search, I found several delicious desserts made with black beans. Who knew there were so many yummy black bean dessert recipes out there?
If you love recipes using black beans, you're going to be throwing up heart-eye emojis when you try these black bean recipes that include several variations of black bean brownies and more.
We've tried kidney bean brownies, black sesame desserts, and even mung bean desserts, but we keep running back to black bean desserts.
Why would anyone make black bean dessert recipes (or black desserts in general)? Well, first of all, black bean desserts are delicious. However, it's the side benefits that have people all over the world getting more creative and making fabulous desserts with black beans.
Are black beans healthy? You bet they are! In the FAQ section below the recipes, you'll find all of the details about black bean nutrition facts. Also, for these recipes, you can use canned black beans or cook your own from dried black beans.
In this article, we've got you covered with black bean brownies, pudding, truffles, and more. Yes, I know there are a lot of black bean brownie recipes on this list, but I couldn't resist adding so many delicious variations.
Are you ready to get your bean on? Let's dive in!
1. Avocado Black Bean Brownie Bites
I can remember when they first came out with brownie bites. Was it Little Debbie or Hostess? That I don't remember, but I definitely remember munching on those chewy little brownie bites.
Making brownie bites with black beans and avocado is much healthier than the preservative-laden brownie bites we used to enjoy! These brownie bites are also made with coconut oil and almond butter (yoou can use peanut butter or cashew butter).
2. Peanut Butter Black Bean Brownies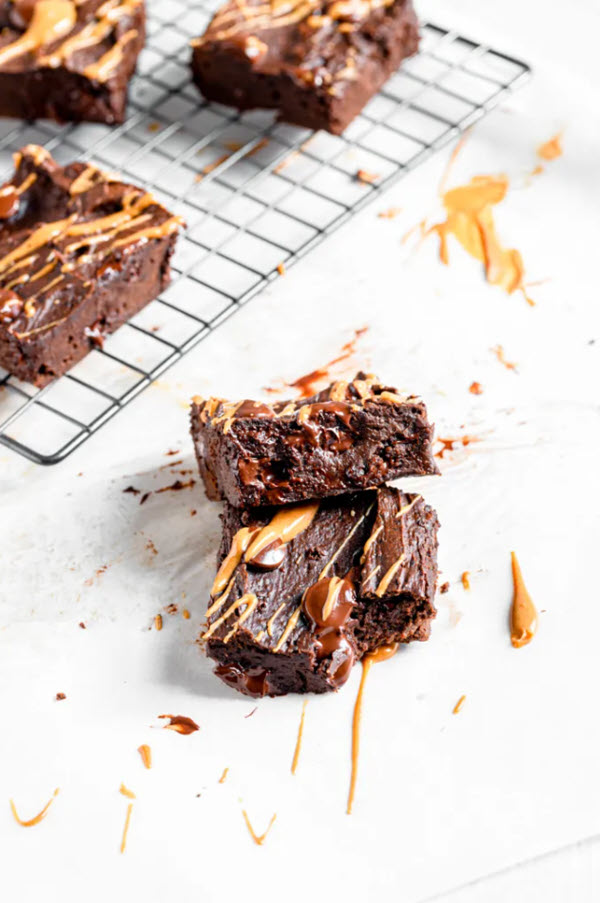 If you're of "a certain age," you probably remember the famous Reese's Peanut Butter cups commercial that had a caveman discovering the wonderful combination of chocolate and peanut butter.
These fudgy brownies bring together the perfect duet that is creamy peanut butter, cocoa powder, and antioxidant-rich dark chocolate chips. The sea salt adds even more complex flavor to this vegan black bean brownies recipe.
Want sugar free brownies? Just use a sugar substitute.
3. Vegan Chocolate Black Bean Smoothie
Do you love smoothies? How about a rich and creamy chocolate milk shake? If you answered YES to either of those questions, you're going to love this rich and creamy chocolate smoothie. You can use any milk substitute, including almond milk.
This vegan chocolate smoothie recipe made in a food processor is perfect because it's full of nutrients.
Besides the protein-rich black beans, this chocolate smoothie is also loaded with Medjool dates, bananas, and cashew butter. Yum!
4. Gluten Free Black Bean Chocolate Chip and Avocado Brownies
There is so much to love about these yummy brownies. First of all, brownies, right? But seriously, these brownies are so decadent but still so very healthy. AND they're gluten free browniers. Are we dreaming?
You get good fat from avocado and coconut oil. And for sweetener, you can use coconut sugar and brown sugar. Don't forget the chocolate chips!
5. Sweet Potato Black Bean Brownies
What's even better for you than black bean brownies? How about a healthy brownie recipe that also calls for sweet potatoes?
These brownies are a nutritional powerhouse and we can't get enough of them! The secret ingredients in these sweet potato brownies are buttermilk and hot coffee. To cook the sweet potatoes, we recommend the microwave or the Instant Pot.
6. Vegan Chocolate Protein Pudding
There is no comfort food quite like creamy chocolate pudding. And the good news is that you can enjoy chocolate pudding even if you are trying to consume fewer calories.
Well, we've got that beat. With this recipe, you use black beans to make your pudding. And yes, it really does taste just like traditional chocolate pudding. You need Medjool dates and coconut milk to make this chocolate pudding.
You can make your dessert pudding in a 12 cup stand mixer or food processor.
7. Vegan Gluten Free Chocolate Black Bean Banana Bread Flourless Recipe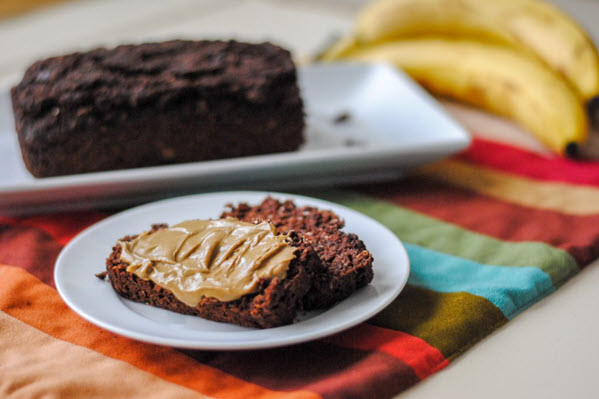 Many folks started baking banana bread in the last few years. With so many people spending more time at home, it seems like the world has re-discovered the art of baking banana bread.
Banana bread is super easy to make, and it's a delicious quick bread that actually adds some nutritional value to your diet. This banana bread recipe is made with oat flour, so it's gluten free. Also, this black bean banana bread is vegan because it calls for ground flaxseed (flax egg) to use in place of eggs.
Be sure to spray your pan with cooking spray.
8. Vegan Double Chocolate Edible Cookie Dough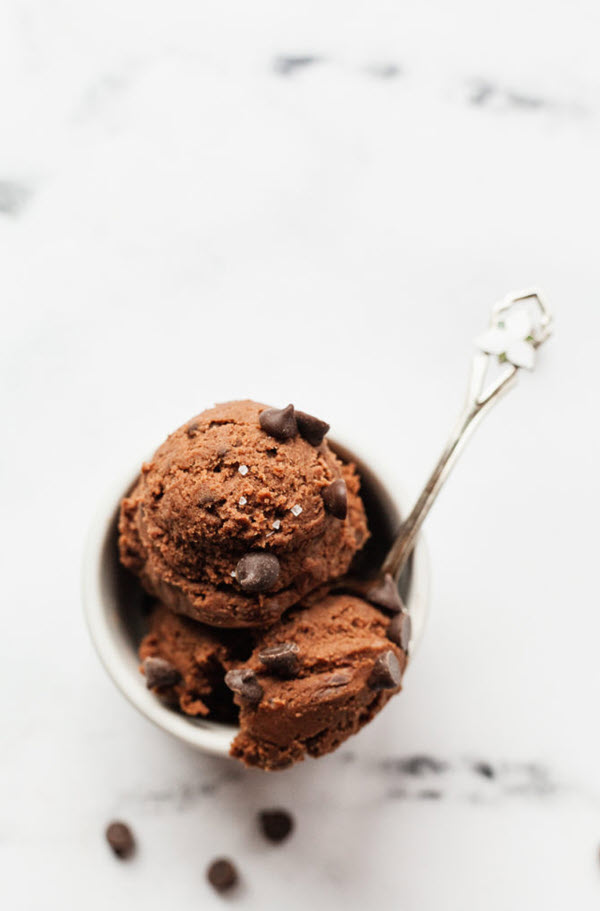 Despite all the warnings about eating cookie dough, everyone still loves to "lick the bowl" or eat the famous Ben & Jerry's cookie dough ice cream. Well, now you can enjoy an edible cookie dough that is vegan, egg free, dairy free, and naturally sweetened.
Even better, this edible vegan cookie dough is made with just 7 ingredients: coconut oil, vanilla extract, maple syrup, flour, sea salt, unsweetened cocoa powder (cacao powder), and chocolate chips.
9. Vegan Black Bean and Avocado Ice Cream Sandwiches
Can you resist ice cream sandwiches? I can't! They're so perfect for snacking on when we're craving something sweet.
With this recipe, you're getting delicious and nutritious. You can use either rice flour or almond flour for this recipe.
10. Vegan Black Bean Chocolate Truffles
OMG, truffles are absolutely joyous. Who can resist them? Not me, that's for sure! I love chocolate so much, and truffles are just divine. And this chocolate truffles recipe is gluten free and vegan. What's not to love?
For this chocolate truffles recipe, you need cocoa powder, coconut flour, coconut oil, and vegan chocolate chips. Sweeten these little gems with maple syrup instead of honey to keep them vegan.
11. Vegan Double Chocolate Black Bean Cookies
These double chocolate black bean cookies are a vegan dessert wonder! They are oh-so-chocolatey, and you'll never miss the butter.
For sweetener, these vegan cookies rely on maple syrup, date syrup, or agave syrup. Also, instead of eggs, this vegan cookie recipe calls for flax seeds.
12. Gluten Free Black Bean Chocolate Cake Recipe
There are plenty of reasons to seek out gluten free treats even if you don't have celiac disease. Some people are gluten sensitive, and others just like to avoid flour for other health reasons.
This chocolate cake is as decadent as a cake made with cake flour. You can frost it with your favorite chocolate buttercream frosting that you make in your food processor.
13. Chocolate Mint Black Bean Energy Truffles
We have long been in love with the idea of little energy balls that give you the boost you need to power through the day while also being yummy.
These mint chocolate-flavored energy balls are made with several power foods, including hemp seed, almond butter, unsweetened cocoa powder, and coconut oil.
The flavor in these delicious little nuggets comes from pure peppermint extract. You can use peanut butter or another nut butter if you like.
14. Fudge Brownie Vegan Protein Bars
Many protein bars are made with whey protein powder, which is a problem if you're vegan or vegetarian. We've fallen head over heels for these chocolate protein bars by Chocolate Covered Katie that get their protein from Nutribiotic chocolate protein powder and black beans.
Nutribiotic protein powder is made with organic rice protein, so this recipe is perfect for vegans and vegetarians (or anyone who wants to eat a more plant-based diet). Other ingredients include coconut oil, pure vanilla extract, and chocolate chips (you can use vegan chocolate chips).
15. Gluten Free Black Bean Brownie Recipe Without Flour
If you follow a gluten free diet because you have celiac disease or gluten sensitivity, you can still enjoy delicious black bean brownies without flour. This recipe is for flourless brownies, which are as delicious as anything you make with flour.
The secret to these perfect black bean brownies is that they have 2 tablespoons of coffee. The brown sugar adds an extra rich flavor to this recipe.
16. Vegan Black Bean Chocolate Muffins with Vanilla Buttercream Frosting
Who's ready to wrap up this list with some decadent chocolate muffins? These chocolate muffins are made with ground rolled oats, so they're loaded with beneficial fiber. The dates add even more nutrients.
When it comes to buttercream frosting, the secret is that this frosting is vegan. It's made with cashew butter, maple syrup, and coconut oil.
FAQs
Below, we address some of the most frequently asked questions about black bean recipes.
Are black beans healthy?
Like most beans and legumes, black beans offer many health benefits. Here is a chart showing just how much goodness black beans can bring to your diet, along with black beans nutrition facts.
What do black beans replace in brownies?
Black beans can be used in place of oil or butter in brownie recipes. The best part is that using black beans for brownies doesn't sacrifice the delicious, fudgy brownie taste.
Are bean brownies healthy?
Back beans are nutritional powerhouses. A cup of black beans has just 227 calories, and this same size serving brings in a whopping 15 grams of protein, 15 grams of fiber, and only 1 gram of fat.
Black bean desserts are perfect for folks who are following Weight Watchers or most other diets.
What do black bean brownies taste like?
Most people find that black bean brownies taste very similar to brownies made with traditional ingredients in a regular brownie.
Can you taste beans in brownies?
No, you don't taste the beans in black bean brownies. The only thing you'll detect is the decadent chocolate flavor.
Chocolate Covered Katie Black Bean Brownie Recipe
Still need convincing? Check out this video by YouTube's Anti-Chef. He shows you step-by-step how to make Chocolate Covered Katie black bean brownies. Fast-forward to 4:49 to hear his answer to exactly how these brownies taste. Spoiler alert: They're yummy, and you may never again eat brownies made with butter, flour, and tons of sugar.
Healthy Black Bean Brownies Recipe
Are you ready to start making black bean desserts? Try these easy healthy black bean brownies.
Healthy Black Bean Brownies
These healthy black bean brownies are loaded with chocolate goodness!
Instructions
Grease an 8x8 rectangular baking pan.

Put melted coconut oil, black beans, honey, and coconut sugar into a blender container.

Blend until the mixture is perfectly smooth.

Add in the two eggs and blend until combined. Don't over-blend.

By hand, mix in 1/2 cup of the dark chocolate chips.

Pour the mixture into the greased baking pan.

Top the mixture with the rest of the chocolate chips.

Bake the brownies for 20-25 minutes until the brownies are starting to pull away from the sides of the pan.

Allow the brownies to cook before cutting.
Video
Notes
Be careful not to overbake these brownies if you like fudgy brownies. 
Black Bean Brownies Ingredient Substitutions
Coconut sugar: You can use any granulated sugar to make these black bean brownies.
Honey: Try maple syrup instead of honey if you like.
Coconut oil: You can use melted ghee or butter instead.
Chocolate chips: Feel free to use any type of chocolate chips, including ChocZero sugar-free chocolate chips. 
Freezing black bean brownies
You can freeze these healthy black bean brownies for up to two months. 
Our website is supported by our users. We sometimes earn affiliate links when you click through the affiliate links on our website.